Business Cooperation with Sugaman Tours | B2B Opportunity
Sugaman Tours is a tourist agency in Split, Croatia, which organizes daily speedboat tours to many attractive locations on Split islands. If you are looking to increase your travel offer with speedboat day tours and to add additional value to your accommodation offers or organized tours this document will tell you all you need to know about us.
Maybe you have found a business partner you've been looking for.
Who is it for?
If you are a tourist agency or a tour operator providing your clients with different travel services pertaining to holidays in Split, Croatia, than business cooperation with Sugaman Tours will surely add a great value to your general travel offer.

Blue Cave & Hvar Speedboat Tour from Split
1. Blue Cave & Hvar Tour is our signature full day speedboat tour starting every day at 08:00 AM and lasting till 06:30 PM.
Itinerary: on this tour our guests visit Croatian natural wonder Blue Cave on island Biševo, beautiful beach in Stiniva Cove and unique swimming experience in Green Cave both on Vis island, swimming and snorkeling in turquoise lagoon of Budikovac island, experience of Mediterranean cuisine in Palmizana on Pakleni Islands archipelago and finally have free time for sightseeing the town Hvar on Hvar island.
Capacity: 10 guests max per speedboat.
Inclusions: entrance ticket to the Blue Cave, insurance, snorkeling gear, water/windproof jacket and safety equipment.
Blue Lagoon & Trogir Speedboat Tour from Split
2. Blue Lagoon & Trogir Tour is our signature half day tour starting every day at 08:30 AM and lasting till 13:40 PM as a morning tour and starting at 02:30 PM till 07:30 PM as an afternoon tour.
Itinerary: Blue Lagoon nestled in the middle of 3 islands (Drvenik, Krknjas Mali and Krknjas Veliki) on a 30 minutes speedboat ride from Split. Our guests enjoy swimming and snorkeling in the beautiful turquoise lagoon. After 2 hours of Blue Lagoon visit to Trogir for one and a half hour of city sightseeing. Trogir is listed on UNESCO World Heritage list and is a city with best preserved structures from Romanesque-Gothic period in all of central Europe which provides an added benefit and value to this tour.
Capacity: 10 guests max per speedboat
Inclusions: snorkeling equipment,, water/windproof jacket and insurance.
What's in it for you?
When you sign a commission based business agreement with Sugaman Tours you sign it with TripAdvisor's 2015 Certificate of Excellence Winners. Our commitment to customer satisfaction, trained and professional staff along with carefully planned and value packed speedboat tours are sure to provide added value to your current travel offers for Split and it's surroundings.
Your clients will get the opportunity to discover end experience all the beauties and attractions on islands around Split in a single day which they would otherwise need days to discover or would perhaps remain hidden from them forever.
With both skipper and a guide on each of our speedboats we strive to provide the best possible experience to our guests making sure we are the highlight of their holiday in Split which reflects positively on your business as well.
Business Cooperation Models
Model No.1 – Instant Booking Confirmation (POS software & Online Booking)
Sugaman Tours operates its business on one of the top software in Tour and Activity business which provides distinct benefits to our business partners as well. Primarily, with Sugaman Tours you can take booking instantly from your office, your phone or through your website, without worrying about possible overbooking.
Business Cooperation Model No.1 is made out of two Components which can be used together or separately
Point of Sale (POS) Software (Component 1)
You will get an access to your own Agent Desk (POS) where you will have instant access to all our tour available capacities in real time giving you the ability to take bookings instantly as if they were your own.
Benefits
Real time insight into seat availability on speedboats

Take bookings instantly

Commission of each booking calculated automatically

Complete performance statistic

Mobile application (availability to check bookings, make bookings, cancel bookings…)
Online Booking (Component 2)
Along with POS software you have the availability to promote our speedboat tours on your own website. With our booking software we can generate Book Now button for your website which has your unique agent code integrated inside, assigning you the commission for each booking generated through that button. All you need to do is integrate the Book Now button alongside appropriate speedboat tour on your travel website (technical support provided).
Benefits
Book Now button styled to mimic the look and feel of your website

Booking process appears to happen on your website so your visitors don't ever leave it

Make bookings from your existing website traffic

Add more revenue streams

Full access to Agent Desk POS software (complete access to all bookings made, commissions, statistics…)

Mobile application (availability to check bookings, make bookings, cancel bookings…)
When you choose to promote our speedboat tours on your website you can also do it alongside your accommodation offers for Split via side banners. This is a good method to convert more of your website visitors into clients.  We will provide you with all the tools needed as well as the technical assistance in order to help you set up your offers, promote them with banners and finally start a great business relation.
Model No.2 – On Request
Besides completely automated booking system which gives you the ability to make instant bookings, we also provide you with 'On Request' Business Cooperation Model.

'On Request' model works in a way that you send us an inquiry including the name of the tour, tour date and the number of persons interested in the tour and we send you the tour availability information. Upon booking you send us the booking confirmation including all the booking details.
For Booking Inquiries you can use
Email – we have an open dedicated email address just for the agent booking inquiries which has the top priority and is the first to be responded to. Upon signing the Business Cooperation Agreement you will get access to this email address.
Skype/Viber – you can call us or text us directly on our dedicated Skype or Viber username to initiate and confirm the booking.
Office Phone Number – finally you can call us directly to our office phone number. Please note that we currently don't have a dedicated phone line for our agents.
Business Cooperation Agreement
Sugaman Tours is looking to make long lasting Business Cooperation agreement with Travel agencies and Tour operators who recognize professionalism, mutual respect, provided value and client benefits as cornerstones of their agreement.
If you are interested in becoming Sugaman Tours agents please fill in and send the required form and we will get back to you immediately upon revision.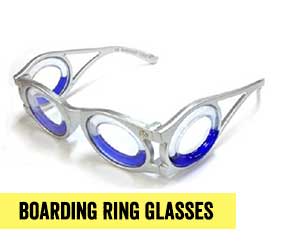 To beat motion sickness we provide to our guests a brand new innovation called Boarding Ring Glasses. Boarding Ring Glasses are provided on request in Sugaman Tours office