CORONAVIRUS UPDATE: FULL REFUND FOR ALL BOOKINGS CANCELLED 24 HOURS BEFORE DEPARTURE
Split Tours powered by Šugaman Tours
We are Šugaman Tours, and we are here to make sure your time in Croatia is enjoyed to the fullest.
We are a team of travel professionals, excursion enthusiasts, and Croatia experts who are driven by the thrill of crafting the perfect holiday for you.
All of our tours from Split are fine-tuned for a foolproof getaway; a day you'll add to your memory bank for a lifetime.
We'll take you to the cerulean waters of the Blue Lagoon, the gushing waterfalls of Krka, the 16 interconnected Plitvice Lakes, and from one UNESCO-protected town to the next.
We'll guide you through the palace of a Roman Emperor and scale the top of iconic landmarks, or help you span some of Europe's prized natural wonders.
We'll bring you the best of Dalmatia's nightlife, islands, and beaches, whether you prefer island-hopping in style or posting up by the pines.
Boat Tours for Island Hopping Adventures from Split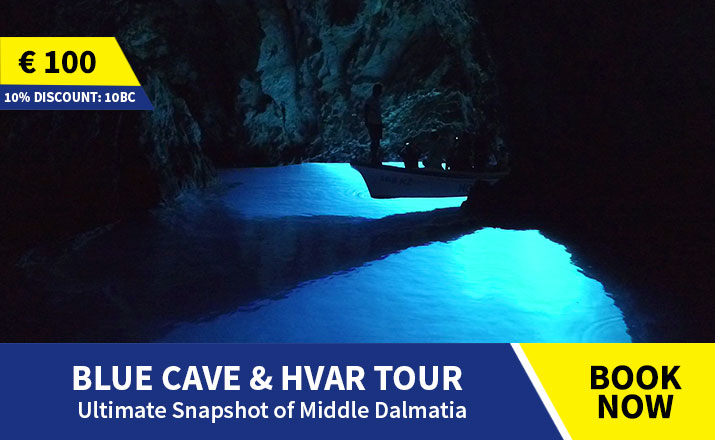 SPECIAL OFFER – 10% DISCOUNT CODE: 10BC
The Blue Cave & Hvar Tour from Split is our most famous boat tour that uncovers the best spots on the islands around Split. You'll island-hop from one paradise to the next, from the magnificent Blue Cave to one of Europe's best beaches, and chill in the lagoon of Budikovac island. The tour ends with a pitstop in Hvar town and the Pakleni islands – two of Dalmatia's hotspots.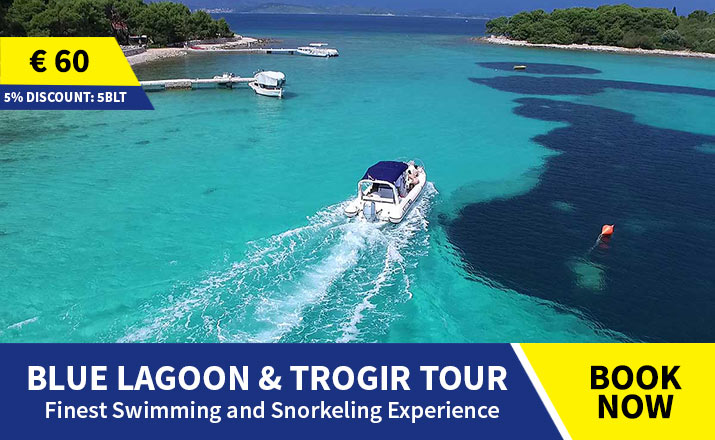 SPECIAL OFFER – 5% DISCOUNT CODE: 5BLT
The Blue Lagoon & Trogir Tour is a half-day speedboat excursion to the nearby lagoon located in the middle of Drvenik island and the two Krknjaši islets. After swimming in this colorful and captivating paradise, we'll head towards the nearby old town of Trogir, a UNESCO World Heritage site, which will charm you with its shiny stone streets and ancient architecture.
Small Group National Park Tours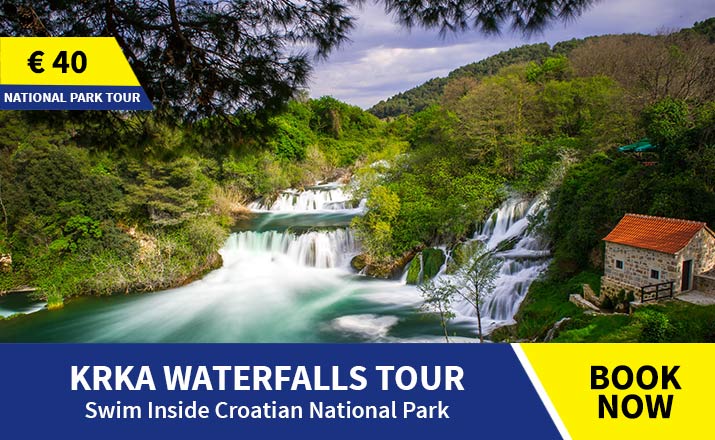 The Krka Waterfalls Tour from Split takes you to the UNESCO-protected town of Trogir before entering the world-famous Skradinski Buk waterfall, also known as Krka National Park's top attraction. You'll even have the chance to visit Krka's ethno village, walk its educational trails, and enjoy its unique travertine system by swimming right next to the cascading waterfalls!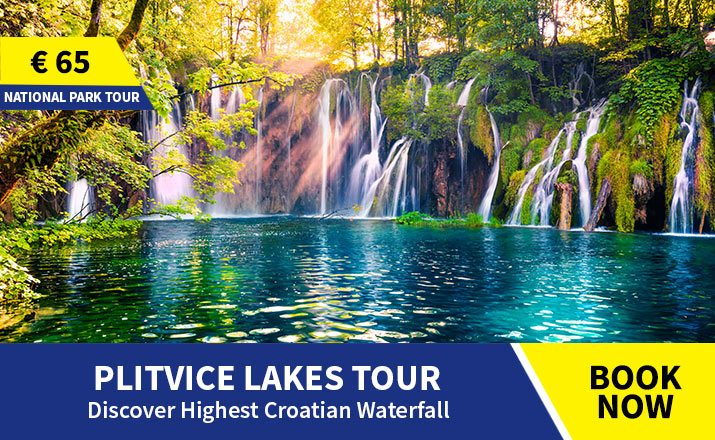 This Plitvice Lakes tour reveals the magic of arguably Croatia's most beautiful national park. You'll walk the nature trails of the park which pass by 16 interconnecting lakes, explore the tranquil Upper Lakes, and jump on a boat ride to visit Croatia's tallest waterfall in the Lower Lakes. How can one go wrong?
Split Day Tours at its Finest!
We'll hike the hinterland's hills, walk the cobblestone streets, and delight in Dalmatia's distinguished cuisine – and if you need a pickup from the airport or ride to the island, we have you covered.We recognize your preference and have designed tours for different types of travelers – from globetrotters in groups to private voyagers and those on a budget hoping to get the most bang for their buck.
Whether you're after a day trip, transfer, or private tour, we are here to offer you more.
From the hills of Dalmatia to the islands that glitter the sea, we are with you every step of the way.
We are Šugaman Tours, and we are destined to make your Croatian dreams a reality.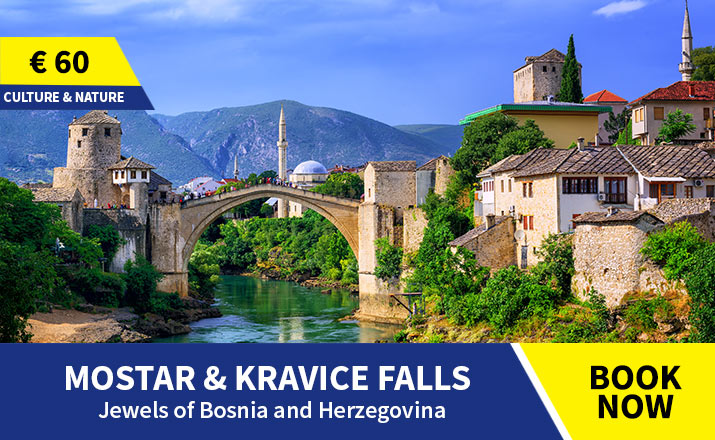 It's no surprise why thousands of tourists flock to the town of Mostar each year. Known as a melting pot of cultures, the Old Bridge is an attraction that draws curious travelers from all parts of the world. However, Mostar is so much more than a picture-perfect town – it is a window to the Orient, and just part of our exploration of Bosnia and Herzegovina where you'll also get to experience the magical white stone town of Počitelj and the waterfalls of Kravice.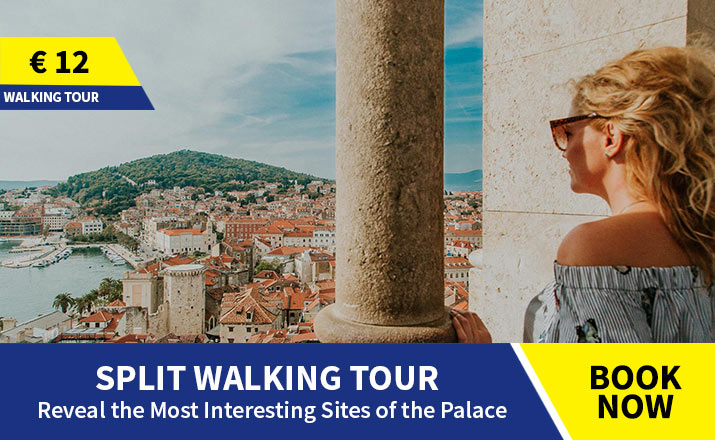 Split is Croatia's second-largest city that has delighted visitors for centuries. Known for Diocletian's Palace and vibrant UNESCO heritage, you'll get to hop in our time machine to explore the cracks and crevices of this ancient Dalmatian gem, led by an expert guide who knows all the ins and outs of this tourism hotspot. Admire the narrow alleyways, architecture, bustling Split lifestyle, and stellar views of this Croatian tourism hotspot.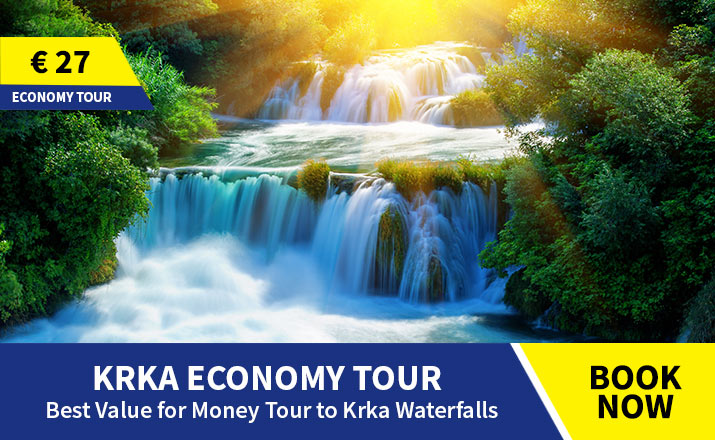 If you're looking to explore the best bit of Croatian nature on a budget, look no further – this Krka Economy Tour is made for you. Think of it as your chance to experience Krka's world-famous waterfalls and natural gems – and don't forget your bathing suit so you can go for a swim! We'll even get you there from Split in style thanks to our air-conditioned transfer service.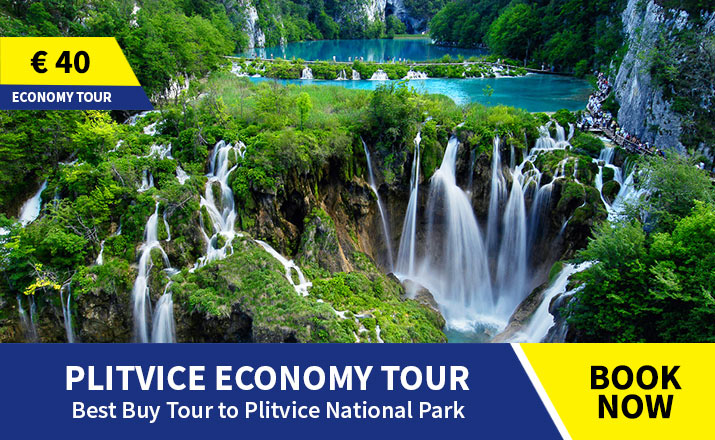 One of Europe's top nature sites and an attraction that draws tourists from all over the world, Plitvice Lakes National Park is a force to be reckoned with. With this tour, you'll get to explore the grandeur of this natural paradise, visit the tallest waterfall in Croatia, and admire its unique flora and fauna – and we'll even get you there in style!
Your Opinion Matters!
…Discovering something for the first time… That feeling of getting lost, but somehow finding yourself…
This is what we're all about. A professional team specializing in fast and safe speedboat tours and transfers to the most special island locations in central Dalmatia.
Yes, we love nothing more then exploring new places, unknown corners of this breathtaking region and uncovering its many flavours. We are thrilled to share this adventure with you!
Transportation Service
Speedboat transfers and land transportation service by Šugaman Tours is a fast and convenient way to reach your destination.
You can book our transportation service for the virtually any group size. For larger groups please contact us and we will arrange a transportation service suitable for your group.
PRIVATE TOURS, THE PERFECT CHOICE FOR GROUPS
There's something about going private that just sounds right. That touch of class, exclusivity, and power to choose at your fingertips is not only enticing, but it's possible with us. If you're after a more intimate experience, want to add your touch to one of our tours, and are with a group (usually between 6 to 20 people), there is no better way to travel than by choosing one of our private tours to any of the popular destinations we offer around Split.
Whether you're looking to hit the Blue Cave and Hvar, the Blue Lagoon and Trogir, Krka or Plitvice Lakes, or take a city tour in Dubrovnik, everything is possible with us – and you get the chance to say that you're going private.
To make any one of our signature daily tours private, simply choose the 'Private tour' option while booking or visit desired private tour directly.