Private Plitvice Lakes Tour
From € 850
Tour description
Ever since Plitvice Lakes became a national park in 1949, it has attracted thousands upon thousands of nature enthusiasts and curious travelers to Croatia each year. One of nature's best miracles, Plitvice Lakes was registered as a UNESCO World Heritage Site in 1979, which pushed its international popularity even further.
So, what is it that makes Plitvice Lakes so unique? For starters, it is an oasis of 16 forever-evolving and cascading lakes. These interconnected lakes follow the flow of water and are separated by travertine barriers. The colors of the lakes adjust depending on various factors – like the minerals or organisms present or the angle of the sun. It's a phenomenon best seen up close, with your own two eyes, and as part of our tour.
Our tour begins early from Split to ensure we waste no time in getting you to your park adventure. While a four-hour drive might otherwise sound like your worst nightmare, it's quite the opposite with us thanks to our luxury air-conditioned vehicle WITH free WiFi. How bad do those 250 kilometers sound now?
Equipped, comfortable, and at ease, we'll make it to Plitvice before you know it. And don't hesitate to use our guide as entertainment; they'll be with you on the way as a wealth of local knowledge and information.
Private Tour Ticket
– Tailor Made Excursion –
UP TO 19 PEOPLE:
 € 1,300
UP TO 8 PEOPLE:
 € 850
HOW DOES THE TOUR FLOW?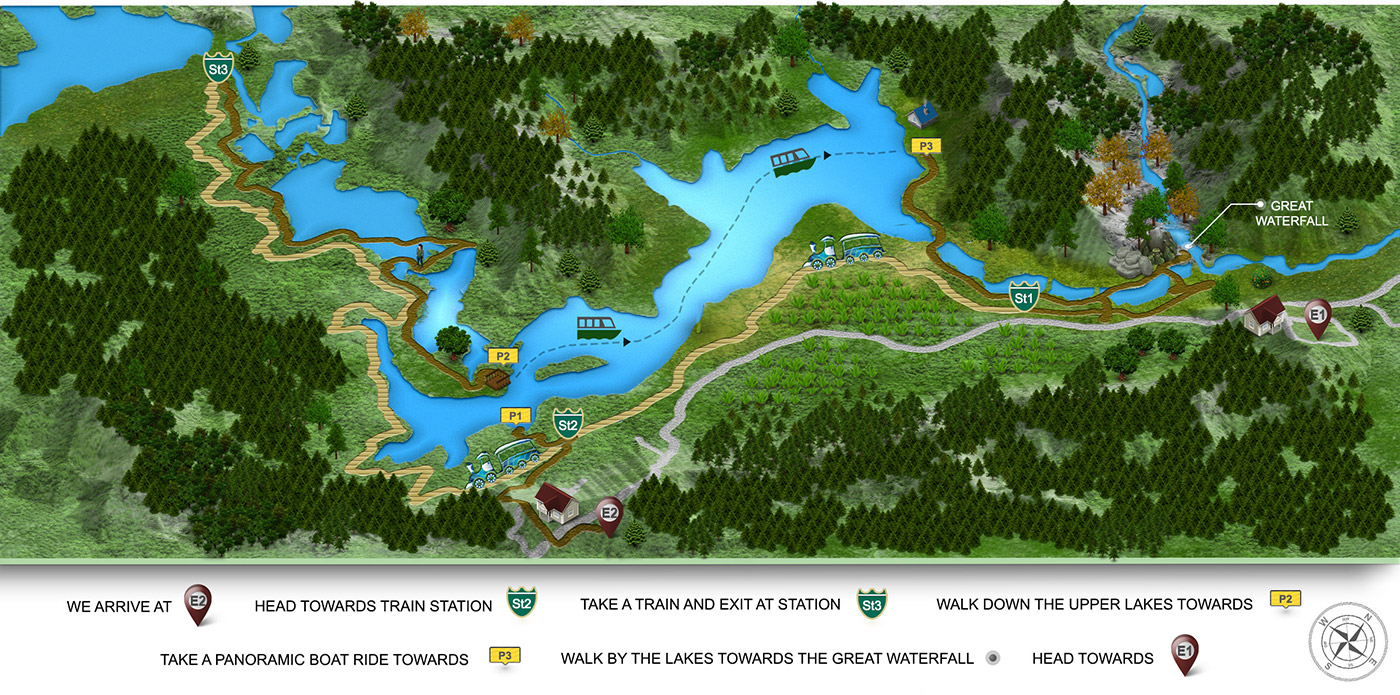 Once we've arrived at Plitvice Lakes National Park, we'll begin with the series of twelve interconnected lakes dubbed the Upper Lakes. After your memory card is nearly full on your camera, we'll make our way down to the next part of the adventure – the Lower Lakes.
Located within the limestone canyon, Plitvice's Lower Lakes consists of four lakes and features the major attractions of this national park.
After a solid four hours of sightseeing, you'll have an hour of free time to enjoy the local cuisine at one of the traditional restaurants.
With your bellies full and a lifetime of memories, we'll make our way back to Split with ease and ensure you arrive in time for dinner.
WHAT YOU'LL EXPERIENCE INSIDE PLITVICE LAKES NATIONAL PARK
Exploring the Upper Lakes will be the beginning of your adventure.
Scenic wooden paths will take you among the series of twelve interconnected lakes where you'll meet Prošćansko, Okrugljak and the Labudovac falls, which is formed by the flow of Ciginovac Lake when it streams into Okrugljak. Did you know that Labudovac is 20 meters tall?
From here, your guide will lead you to Veliko, Malo, Vir, and Batinovac, which are all connected to Galovac, known as one of the park's most beautiful attractions. Wooden walking trails will lead you over the lake to one of the park's most photographed areas.
After the Upper Lakes, you'll get to explore the Lower Lakes which are the showstopper of our nature tour. This part of the journey allows us to sightsee by boat and on foot. Our first stop is Lake Milanova and the 20-meter-tall Milanovački Slap waterfall. We'll give you a minute to snap some photos here. We'll then head to the Milka Trnina waterfall, which was named after a famous Croatian soprano who made her mark in the country in the early 1900s.
The single-most photographed attraction in the park is undoubtedly the Great Cascades, whose colors shift from blue to turquoise, grey and emerald, capturing you in a trance of the natural miracle before you.
Because we like to 'go big or go home', our tour ends with the tallest waterfall in Croatia – the Great Waterfall. This mammoth of a waterfall roars from a height of 78 meters, and you might not believe your eyes.
What to bring?
For a full day at Plitvice Lakes, we'd recommend the following:
Plitvice Lakes National Park rules
While you're visiting the park, there are some rules you must follow:
Can you swim inside Plitvice Lakes National Park?
Unlike Krka National Park, swimming is strictly forbidden at Plitvice Lakes National Park.
WHY IS OUR PRIVATE TOUR THE BEST WAY OF GETTING TO PLITVICE LAKES NATIONAL PARK FROM SPLIT?
While there are plenty of reasons, we'll start with a few…
Plitvice Lakes is around 250 kilometers north of Split and the driving time ranges between 3-4 hours, depending on your mode of transport.
While you can take a bus from Split to Plitvice Lakes, travel times could reach up to 5.5 hours, and the buses in the summer are usually crowded and warm.
Yes, we know you could also rent a car and ride the highway up to Plitvice from Split, though the peak season rental prices and fuel add ons will be anything but friendly to your wallet.
So, why not let us treat you?
Our guided tour will lead you across the most beautiful paths inside the park while our local expert fills you in on the many exciting stories along the way.
After the tour, sit back, chill out and trust in our traditional cuisine before our chauffeur drives you back to Split our air-conditioned, WiFi equipped, and luxury minibus. How could you go wrong?
A not-to-miss tour and once in a lifetime opportunity, this is a foolproof way to discover the UNESCO-protected pearl of Plitvice Lakes.
Park Entrance Ticket
Please note: park entrance ticket is not included in the price because depend on the season and the age
Entrance tickets need to be paid in cash, in Croatian kuna so make sure to prepare the exact amount before departure.
Entrance fee to the national park is not included in the tour ticket. You will be charged additional entrance fee on the day of departure according to the table below.
Purchasing of the entrance tickets is organized by travel agency. Please do not purchase tickets for National Park online. We'll make a reservation in advance and check you in as a group.
| TICKET TYPE | 1.4. – 31.5. | 1.6. – 30.9. | 1.10. – 31.10. |
| --- | --- | --- | --- |
| Children up to 7 y. old | free of charge | free of charge | free of charge |
| Children from 7 to 18 y. old | € 6,50 | € 15,90 | € 6,50 |
| Adults | € 23,50 | € 39,80 | € 23,50 |
| Students | € 14,50 | € 26,50 | € 14,50 |