Private Mostar and Kravice Tour
From € 750
Tour description
While all of our tours in Croatia are a treat, we'd also like to tempt you with the beauty of our neighbors in Bosnia and Herzegovina. Let us take you inland for a tour that marries the magic of nature with vibrant ancient cities. Discover the diversity of western and eastern architectural styles which can be seen around every corner as soon as you cross the Croatian border.
Moving from the delta of the Neretva river, wander through the picturesque Počitelj, a white-stone sanctuary with roots dating back to the 14th century.
Uncover the secrets of Mostar, known as the city where the "east meets west", and the Old Bridge which stands as a symbol of the town's turbulent past. End the tour with a touch of nature and a dip under the enchanting Kravice waterfalls.
Lucky for you, this private tour gives you a taste of everything.
Suggested Itinerary
07:00 Departure from Split
09:30-10:00 Visit Počitelj
10:30-11:15 Sightseeing tour of Mostar with a local guide
11:15-13:45 Free time for lunch and exploring on your own
14:30-17:00 Visit Kravice Waterfalls
19:00 Return to Split
Private Mostar Tour Ticket

– Tailor Made Excursion –
UP TO 19 PEOPLE:
€ 1,200
UP TO 8 PEOPLE:
€ 750
Počitelj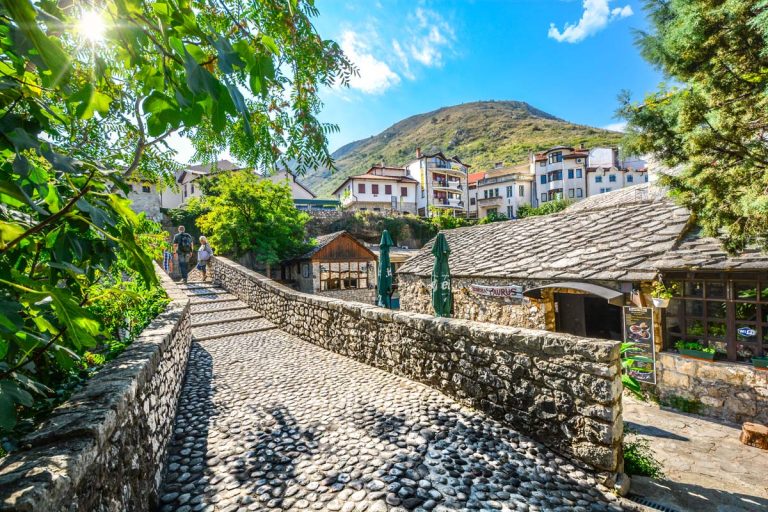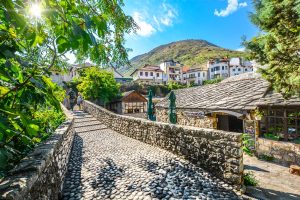 Bosnia and Herzegovina is a culturally vibrant country thanks to its bumpy history – but today, it is the land of peace and tolerance. This clash of cultures begins with a postcard-perfect settlement dressed with Ottoman architecture and Mediterranean touches – Počitelj. This is your chance to escape from the bustling and traditional cityscapes and explore life as it once was. Počitelj is a UNESCO Heritage site; a fairytale town constructed of polished white stone that dates back to the Middle Ages. Počitelj comes alive with busy open markets and breathtaking landscapes that will stop you in your tracks – and it would be a shame to miss out on a rich cup of Turkish coffee while admiring the town.
This UNESCO-protected paradise is adorned with 16th-century buildings and mosques, blending the Ottoman and Islamic spirit. A fortress and clock tower sits at its top, while shiny cobblestone streets can be found below. It is an ancient sanctuary with views reaching out to the valleys, and it is the perfect beginning to this private tour.
Mostar

Mostar is yet another whimsical town that transports you back into yesteryear. Known as the city where "the east meets the west", Mostar is a slice of Ottoman heaven, where Islamic architecture radiates in the heart of the Balkans. Dip your toes into the long history and cultural heritage of Mostar, which wouldn't be complete without a visit to the iconic Old Bridge – Mostar's mark that attracts thousands of tourists each year. The Old Bridge, located in the heart of the town and a symbol of the Bosnian war, is today one of the most frequented attractions in Bosnia and Herzegovina and a UNESCO World Heritage site. The stone arch spanning the Neretva river represents tolerance and connects the two different sides of the city – Croatian and Muslim.
But the bridge isn't all of the buzz in this spirited town. Mostar is unique because it marries Islamic architecture with Mediterranean touches and is an outstanding example of a genuinely multicultural epicenter in the Balkan region. It is a melting pot of cultures which is confirmed by its colorful bazaar and thriving marketplace. It is a haven for history buffs and curious travelers who should expect the friendly locals to extend their helping hands.
Kravice Waterfalls

While we believe all waterfalls are worth chasing, the Kravice falls in Bosnia and Herzegovina are easily at the top of any waterfall bucket list. After Mostar, the tour will take you to the Kravice falls, one of Europe's best kept natural secrets. Descending into the valley of the Trebizan river, these 25-meter waterfalls gush into the river below and form shallow emerald pools perfect for cooling off from the summer heat. This natural phenomenon provides a cool refuge for rejuvenation; the ideal ending to your day exploring the best that Bosnia and Herzegovina have to offer.
What to Bring
Since we're heading inland on this adventure, you'll want to prepare for warmer temperatures than our trips along the coast. Keep it simple, keep it comfortable, and keep it minimal (and by minimal, we mean light and breathable clothing items are key). Wear your favorite pair of walking shoes and be sure not to forget your swimsuit and towel so you can embrace all that the Kravice falls can offer. Be smart, and don't forget your SPF, sunglasses, or a hat. Stay hydrated (a refillable canteen is never a bad idea), and carrying snacks is always a good one!
Create your itinerary
There are several benefits to booking a private tour, but perhaps best of all is the fact that you get the final say. From flexibility to options and the chance to create a day tailored to your timing and needs, this tour is all about you – your guests, your destinations, your activities, and your schedule. We promise to do our part in making your dream holiday a reality and will gift you the best guide out there. If you like this tour but feel like it's missing your touch, don't fret – from here on out, the rest is up to you. Make it yours.