Plitvice Lakes Tour from Split
National Park Experience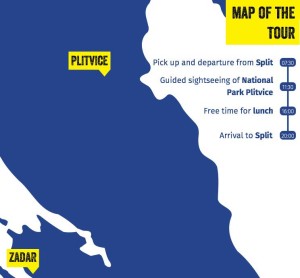 On our Plitvice Lakes tour from Split you will witness why Plitvice National Park is not only Croatia's National Wonder but why it has been enlisted on UNESCO World Heritage site's list.
With its 16 lakes, travertine barriers, largest Croatian waterfall and breathtaking canyons Plitvice lakes will surely drain out the batteries of your camera and leave you with ever lasting memories.
Duration: approx 12 hours
Operates: Daily
The tour includes: full guided tour of the Park with earphones (headset) for perfect experience
---
| | |
| --- | --- |
| • | Air conditioned luxury vehicle with free Wi-Fi access |
| • | Immerse yourself in natural beauty of the Plitvice Lakes, an UNESCO World Heritage site |
| • | Walk the nature trails through travertine barriers, falls and lakes of Plitvice National Park |
| • | Witness the magnificence of the Great Waterfall, the highest waterfall in Croatia |
| • | Get an opportunity to taste traditional local cuisine in an authentic surrounding |
From Plitvice National Park
What you will experience
No matter which time of the year you decide to visit Plitvice National Park it always has a special treat ready for the unsuspecting visitor. Since majority of the tourists visit Plitvice National Park during the summer they can expect a symphony of sights, sounds and color mashed together into one unique natural experience. Leave concrete and cars behind you and enter with us a nature's wonderland!
---
Split to Plitvice Lakes drive
After we pick you up at one of our predefined locations with our luxury air conditioned mini bus, we will start our drive towards Plitvice Lakes National Park. During the entire time of the ride you will have free Wi-Fi access to your electronic devices.
---
Upper Lakes
Around 11:30 AM we will arrive to Plitvice Lakes, a beautiful valley of 16 terraced lakes laced together by waterfalls and miles of pleasant walk paths.
The start of the tour takes us across series of twelve interconnecting lakes called The Upper Lakes (Gornja Jezera). The lakes are connected with series of breathtaking waterfalls and deposited travertine barriers that constantly change their shape by the power of the water. The lakes are also constantly changing their color depending on the mineral composition of the water and the microorganisms living in them as well as on the angle at which the sun hits their surface. This everlasting process ensures that the Plitvice lakes never looks the same.
---
While walking the wooden footbridges and pathways that dance across the rumbling water, the cascades and the waterfalls that surround them leave you with a unique experience of connecting with nature.
As we continue along the path, gazing on the picturesque cascades, the walk brings us to the boat that shuttles us towards the Lower Lakes (Donja Jezera).
---
Lower Lakes
Lower lakes is an area consisting of four lakes located in the limestone canyon. This fantasy world of natural limestone dams — constantly built up by deposits of calcium carbonate, even as they're eroded by the flow of water — is a perfect blend of unique geological features you'll rarely find elsewhere on earth.
continue reading...

?
Here the circuit culminates with the Great Waterfall (Veliki slap), the tallest waterfall in Croatia.
The impressive site of surrounding cliffs and forests as well as the tumbling roar of water highlights the beauty and magnificence of Plitvice Lakes National Park.
---
Traditional cuisine
After you have been immersed in nature for the duration of the Plitvice lakes tour we suggest that you taste the local cuisine in one of the the traditional family restaurants. This activity is optional and instead you can choose to spend more time in nature before we return back to Split.
Ticket Info
Price per person: € 65
For group price, please contact us.
---
Included in Price
Complimentary Pick up and Drop off (subject to availability). Wi-Fi in air conditioning luxury vehicle, English speaking tour guide, rain ponchos in case of bad weather, insurance
---
Excluded
Entrance ticket to the park, lunch (optional), gratuities optional)
---
Tour restrictions
Not wheelchair accessible
Children must be accompanied by an adult.
---
Operates
Daily
---
Park Entrance Ticket
Entrance tickets need to be paid in cash, in Croatian kuna so make sure to prepare the exact amount before departure.
Entrance fee to the national park is not included in the tour ticket. You will be charged additional entrance fee on the day of departure according to the table below.
Purchasing of the entrance tickets is organized by travel agency. Please do not purchase tickets for National Park online. We'll make a reservation in advance and check you in as a group.
If you have already purchased tickets in advance, please let us know by e-mail.
|  TICKET TYPE | 1.4. – 31.5. | 1.6. – 30.9. |   1.10. – 31.10. |
| --- | --- | --- | --- |
| Children up to 7 y. old | gratis | gratis | gratis |
| Children from 7 to 18 y. old | HRK 50 | HRK 120 | HRK 50 |
| Adults | HRK 100 | HRK 250 | HRK 100 |
| Students | HRK 75 | HRK 160 | HRK 75 |
---
Useful Tips before Tour
Don't forget to bring your camera to capture all these beautiful sights.
Wear casual clothes and comfortable shoes for walking.
If you are taking a tour in spring, autumn or winter, don't forget to bring warm clothes and an umbrella.
Bring a snack and water with you to make your trip as comfortable as possible.
---
Meeting Point and Arrival Info
Meeting point: Meeting point is main tourist bus terminal (taxi station) in the old Split town. It is located between Obala Lazareta and Poljana kneza Trpimira, near "Terminal F" restaurant and red letters SPLIT photo sign.
get the directions
---
Office address: Dosud ulica 4
get the directions
---
Arriving by car
July and August can get very busy, so we recommend you get clear instructions about available parking
view nearby parking map
---
Arriving by bus
Buses that stop at Tržnica (green market) near our office
2, 3, 5, 8, 9, 10, 11, 14, 15, 17, 18 and 60
view bus map