Private Blue Cave and Hvar Tour
 € 1,400 for up to 12 people
If you're looking for an intimate experience of Dalmatia's most cherished islands, then you'll want to keep reading…
Here's a scenario. You're visiting Croatia in the summer and are having trouble choosing which of its 1,200 islands you'd like to see. Don't worry, we have that problem, too. But as seasoned summer experts along Croatia's coast, this is an area where we can help.
Join us for a dream day out at sea where you not only get to visit the mesmerizing Blue Cave on Biševo island, but we'll take you some of the country's best hidden coastal gems you could only find with the help of a local guide.
We'll breeze by secluded coves, award-winning beaches, and breathtaking bays and make sure you don't skip a beat. From Hvar town's vibrant history coupled with island glitz and glam to the lesser-known lands of olives and honey, you'll have the chance to explore Dalmatia's charming island utopias before we jet you back to Split.
A foolproof way to combine Croatia's hotspots with obscure gems destined to sweep you off your feet, won't you join us for an exclusive, full-day tour of Dalmatia's islands?
Suggested Tour Itinerary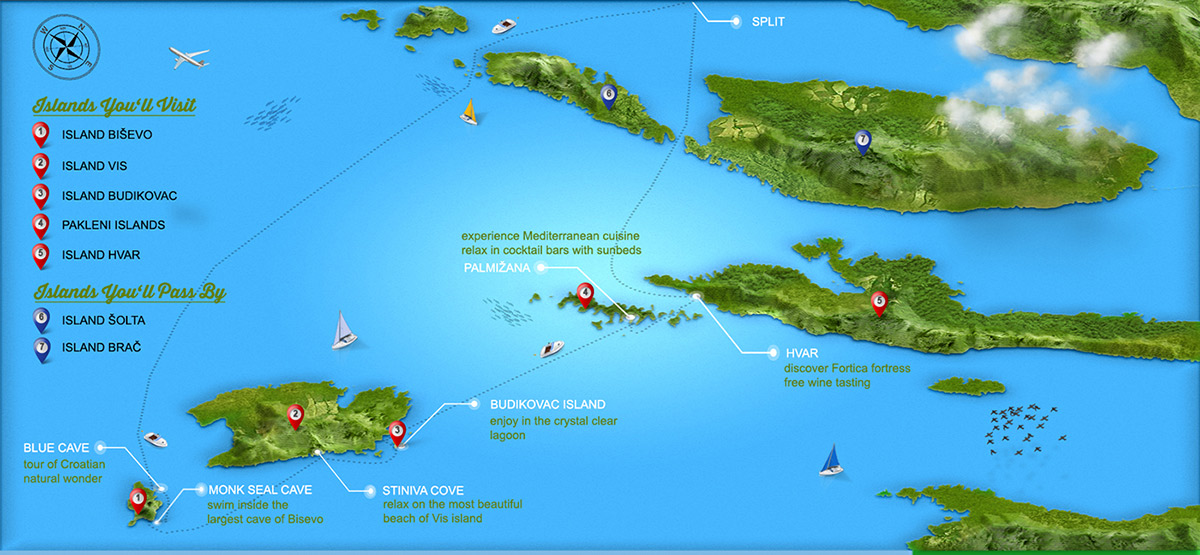 Croatia's islands offer a world of attractions destined to delight all types of travelers. Our tour will not only get you there safely and comfortably, but we've made sure to combine the best parts of what makes Central Dalmatia so unique – from award-winning beaches to remote caves and old towns that exude Croatian culture. We'll drop anchor in spots so stunning they're worthy of a Hollywood film set – and so breathtaking you'll keep the images in your memory bank for a lifetime.
But what's even better about this tour is that you get the chance to make it yours. Since we want the itinerary to have your touch, this tour can be tailored to your wishes, ensuring each step of the way will make your day. Remember, this experience is for you, and this is your chance to own it.
Private Tour Ticket
– Tailor Made Excursion –
FOR UP TO 12 PEOPLE:
€ 1,400
Croatia is known for having some 1,200 islands – so why step foot on just one? While we'd suggest visiting Biševo, Vis, Budikovac, Hvar, the Pakleni islands and Brač, you have the power to choose from our offer in case there is another island paradise you might fancy. This is your chance to spend a sun-kissed day at sea, so why not add your touch?
While the Blue Cave might be one of Croatia's prized treasures, there is more of that for you to enjoy, too. The Vis archipelago, for example, is full of fascinating caves like the Monk Seal Cave, named thanks to the former home of the Mediterranean monk seals that used to inhabit the area.
And if green is more of your color, there's a cave for that, too. Namely, the Green Cave glows similarly to the Blue Cave but boasts a green hue thanks to the light reflecting on the sea algae covering the stones at the bottom. And did you know you can swim here, too?
CREAT YOUR OWN ITINEARAY
Do you want to explore other destinations along the way? Here's your chance to craft the perfect Blue Cave getaway.
Šolta
Are you looking for something a bit off the beaten path? Somewhere that tourists haven't entirely caught onto yet? Meet Šolta, the island of olive and honey. Overshadowed by its bigger counterpart Brač, we're not complaining – Šolta is pure bliss just minutes from Split. A tranquil escape from the city crowds, Šolta is set with stunning natural bays and wild landscapes. The locals on the island lead carefree lives – and they love when they can share the fruits of their labor with you. From homemade honey to olive oil, wines and cuisine based off locally-sourced ingredients, you can't go wrong by choosing Šolta.
Komiža
But no island-hopping tour is complete without a to visit Komiža, a charming Mediterranean fishing village and hotspot on the island of Vis.
Known for its picturesque bay and iconic fishers, Komiža has become an unavoidable destination for those visiting the Vis area and the nearby caves – the Blue Cave is just 15 minutes away by speedboat!
Komiža boasts beautiful beaches, one of which is situated in the heart of the town. And if you're a film buff, you might recognize parts of this island town as it was transformed for the set of 'Mamma Mia! Here We Go Again'.
The cast even stayed on the island for more than two months!
Pakleni islands
The Pakleni islands are a group of forested islands that stretch out in front of Hvar town. Legend has it that this group of islands developed as the product of a secret love between Poseidon, the Greek God of the sea, and a nymph. Who knew?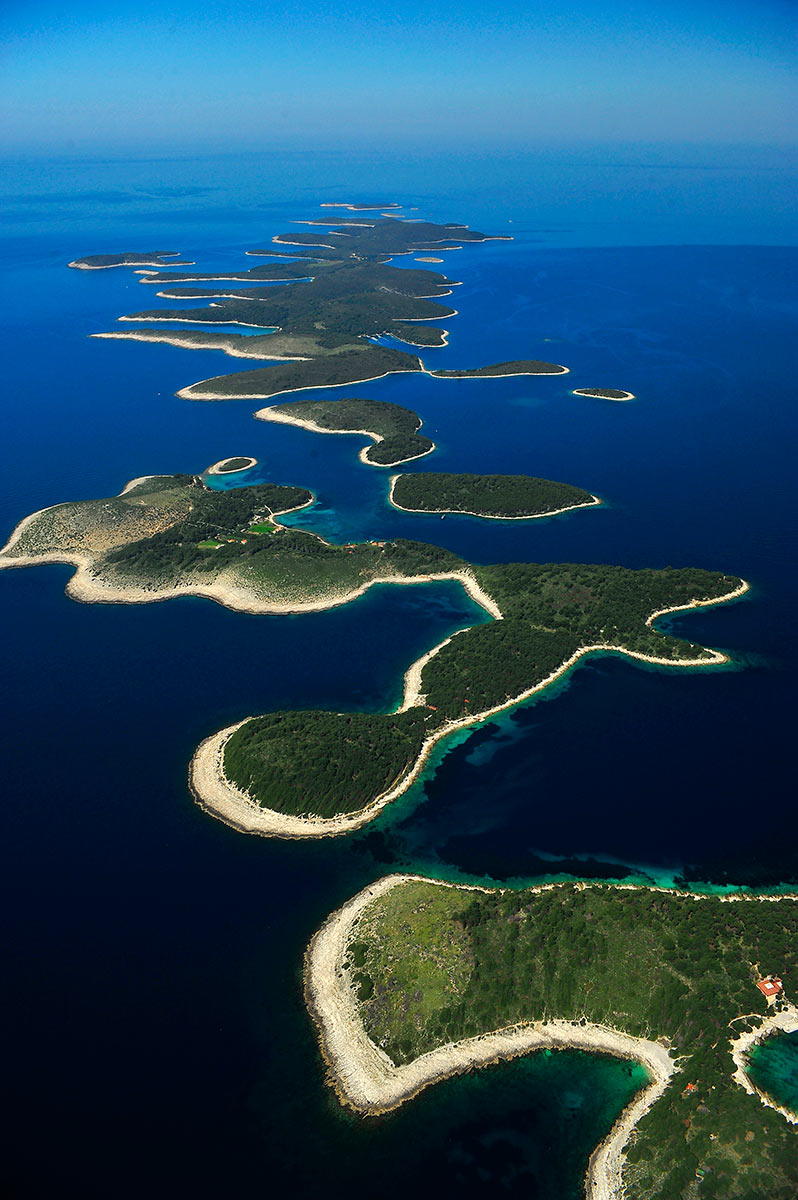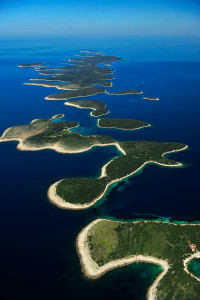 The name 'Pakleni' is popularly translated as 'Hell's islands', though it originally derived from 'paklina' or the pine resin once used to coat ships.
History aside, these islands are a haven for yachts and small boats, as its hidden inlets and secluded coves are ideal for diving, swimming or fishing. This island oasis reveals intact nature and the archipelago's raw beauty – and you get to witness it for yourself.
While our regular itinerary includes Palmižana bay, which is popular among tourists in the summer, it is not the only jewel of the Pakleni islands.
And because we don't want you to miss a beat, we thought we'd provide you with a list of the best bays within the Pakleni islands which you can include in your private Blue Cave island hopping tour.
Croatia's magical coast is best seen by boat, and even better enjoyed by a foolproof getaway that can be crafted with ease.
By choosing one of our private tours, not only do we promise flexibility, but we will be by your side every step of the way to make sure the traveler in you is represented in your itinerary.
Need some trip advice or curious if the adjustments you want to make will work? Our team of experts is at your disposal – so don't be afraid to ask for a helping hand.
We're here to help you craft a private speedboat tour that is not only unforgettable, but is yours.
Contact us with your holiday ideas so we can get a head start on planning your personalized getaway. We're here to make your travel dreams a reality.
Blue Cave Entrance Ticket
Blue Cave entrance fee is not included in the tour price so please have the exact amount prepared once you arrive at the Sugaman office.
Blue Cave entrance fee
01/04-30/06 & 01/09-31/10: 70 HRK (app. 9,30 Eur)
01/07-31/08: 100 HRK (app. 13,30 Eur)