Krka Tour from Split
Enjoy Krka Waterfalls with Trogir Town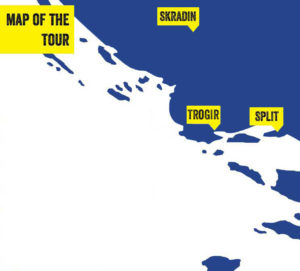 Take a time out from warm summer streets of Split and immerse yourself in unparalleled natural beauty of Krka National Park.
Enjoy afternoon sightseeing of a renowned city of Trogir which old center is one of a UNESCO protected World Heritage sites
On our Krka tour from Split you will enjoy swimming in the refreshing water of the Krka River just under the waterfalls, relaxing walks trough untouched nature and educational workshops revealing cultural heritage of the area.
Duration: approx 9 hours
The tour includes: guided tour of Krka National Park and guided tour of Trogir
Skradin
Whitness this hidden gem from Roman times.
Krka River Canyon
Take a revealing boat ride through Krka River canyon
The most beautiful sight of the Krka National Park. Enjoy in education trails and an unique ethno presentation
| | |
| --- | --- |
| • | Air conditioned luxury vehicle with free Wi-Fi access |
| • | Sightseeing of an old city center of Trogir- one of the oldest cities in Croatia |
| • | Discovering the beauties of Skradinski buk and its waterfalls |
| • | Following nature's trails along travertine barriers, lakes and falls |
| • | Unique experience of swimming under the famous cascades |
---
Itinerary
07:45 – 08:15 Pick up and departure from Split
09:00 – 10:00 Sightseeing of Trogir town
11:00 – 11:30 Panoramic boat cruise to Skradinski buk
11:30 – 12:30 Guided tour of Skradinski buk
12:30 – 15:00 Free time for swimming and exploring the park
16:45 – 17:15 Arrival to Split
Sugaman tours keeps the right to alter or adjust the itinerary due to traffic on the road, or bad weather conditions
---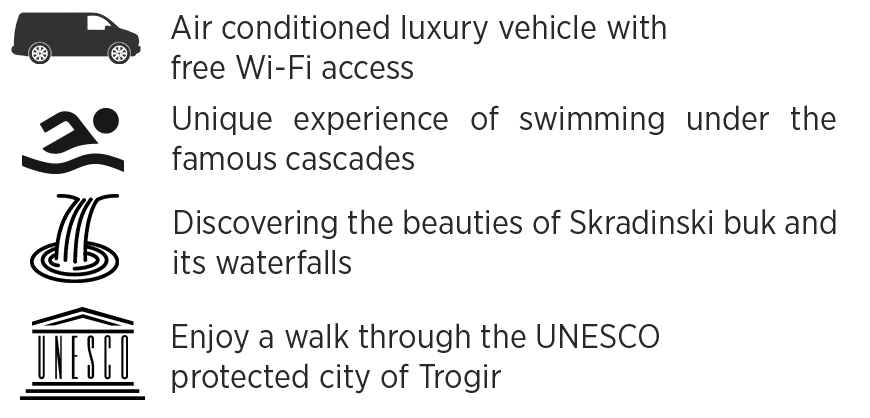 ---
What you will experience

A refreshing day in the middle of the summer might be a perfect recipe to explore yet another side of Croatia besides the islands, sea or the pebble beaches. A visit to one of eight Croatia's national parks guarantees a day filled with unique experiences. We start our Krka waterfalls day trip in the early morning as we pick you up with our luxury air-conditioned mini van or minibus.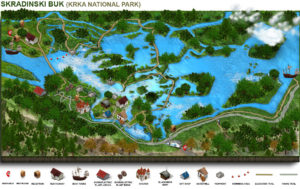 ---
How far is Split from Krka National Park?
A ride from Split to Krka National Park is very enjoyable and revealing as you are presented with distinctive panoramic views of the surrounding island archipelagos and picturesque coastal villages and towns like Trogir. Depending on the traffic the ride last approximately an hour and a half, following the sea line from Split to city of Sibenik where we turn towards Skradinski Buk and the official start of our Krka waterfalls tour.
The short ride from Split to Krka will be more enjoyable in our air conditioned vehicle, providing free Wi-Fi access during the entire ride. The ride will be even more pleasant as we decided to cut it in half by revealing you a truly charming and unique coastal town.
---
Old town of Trogir
After approximately 30 minutes ride we stop for sightseeing of one of the most exciting cities in central Dalmatia. The old town of Trogir was listed on an UNESCO World heritage site in 1997 and since then its popularity has been growing year by year. This gorgeous town is set on the Adriatic coast, within medieval walls linked by bridge to the mainland. Take your time to meet this city with more than 2300 year of tradition. Visit Kamerlengo castle, old narrow streets, towers and bells. Absorb the sun rays on their main promenade while drinking coffee and relaxing in one of many bars. Don't miss the opportunity to climb on one of the bells for the best view of Trogir, you will feel like you are holding it in your palm.
---
Skradin
At the start of the Krka tour we will visit Skradin, a pretty little riverside town with a combination of brightly painted and bare stone houses of its main streets and a ruined fortress towering above it. When they asked Bill Gates, founder of Microsoft to recommended to readers of the Forbes magazine where to take their holiday, of all the countries and places in the world he decided on Skradin and Croatia. So it is for sure a place to visit!
---
continue reading...

?
Panoramic ride of Krka Canyon
From Skradin we will take a panoramic boat ride trough the Krka canyon towards Skradinski buk, presenting all the beauty of the surrounding area. Be prepared to take photos, as these are the images you will wish to bring back home and share with your family and friends.
---
Krka Waterfalls tour
After a picturesque panoramic boat ride we stop at Skradinski buk where you will immediately be presented with all the beauty of the Krka National Park. Skradinski buk is the largest travertine cascade system in Europe. The walk through the park will be truly serene: myriad waterfalls glazing in front of your eyes while you walk a network of wooden bridges and boardwalks and the sweet scent of pine fills your nostrils. We will continue our walk with educational trails through nature and an authentic ethno presentation that reveal how river water kept the life thriving in this area throughout centuries. Remnants found from thought the history like stone houses and watermills have been turned into souvenir shops and exhibition spaces.
After the walk through the park and over the wooden bridges crossing Krka river you will have enough free time to experience local cuisine or to enjoy in the unique feeling of swimming by the waterfalls within protected area of the natural park.
---
Swimming in Krka river near Krka Waterfalls
As it is a National Park swimming in Krka river is permitted but only in designated areas (if you don't want to hear it from the park rangers). Our guide will point out where you will be able to refresh in the crystal clear Krka River and experience this unique sensation.
---
Experience traditional Dalmatian cuisine
Besides exploring all the natural beauties of Krka National Park as well as the unique experience of swimming by the waterfalls, you also have the chance to taste its authentic Dalmatian cuisine in a traditional Dalmatian tavern.
Ticket Info
Price per person: € 40
For group price, please contact us.
---
Included in Price
Complimentary pick up and drop off (subject to availability). Wi-Fi in air conditioning luxury vehicle, English speaking tour guide, rain ponchos in case of bad weather, insurance

---
Excluded
National Park entrance ticket, gratuities (optional)
---
Tour restrictions
Not wheelchair accessible
Children must be accompanied by an adult.
---
Operates
Daily
---
Park Entrance Ticket
Entrance fee to the national park is not included in the tour ticket. You will be charged additional entrance fee on the day of departure according to the table below. Please prepare the exact amount.
| TICKET TYPE | 1.4. – 31.5. | 1.6. – 30.9. | 1.10. – 31.10. |
| --- | --- | --- | --- |
| Children up to 7 y. old | gratis | gratis | gratis |
| Children from 7 to 18 y. old | HRK 80 | HRK 120 | HRK 80 |
| Adults | HRK 100 | HRK 200 | HRK 100 |
Useful Tips before Tour
Don't forget to bring your camera to capture all the beautiful sights.
Bring swimwear, beach towel and sun protection to make your day in the sun as comfortable as possible.
Wear casual clothes and comfortable shoes for walking.
---
Meeting Point and Arrival Info
Meeting point: Meeting point is main tourist bus terminal (taxi station) in the old Split town. It is located between Obala Lazareta and Poljana kneza Trpimira, near "Terminal F" restaurant and red letters SPLIT photo sign.
get the directions
---
Office address: Dosud ulica 4
get the directions
---
Arriving by car
July and August can get very busy, so we recommend you get clear instructions about available parking
view nearby parking map
---
Arriving by bus
Buses that stop at Tržnica (green market) near our office
2, 3, 5, 8, 9, 10, 11, 14, 15, 17, 18 and 60
view bus map