Blue Lagoon Tour description
Hop on board our signature tour from Split to the famous "Blue Lagoon". Situated between the two Krknjaši islands, this lustrous lagoon is a bright blue paradise, ideal for swimming, snorkeling and a day lounging in the sun.
After you've dipped, dived, and delved deep into the lagoon, you'll discover the charming UNESCO-protected town of Trogir, the next destination of our Blue Lagoon tour. We'll moor the speedboat at Trogir's main promenade so you can set off on a sightseeing tour of this historic city by entering through the ancient city gates.

New in 2021: our speedboat for the Blue Lagoon Tour
morning departure
09:00 Departure from Split Riva
09:30 Arrival in Trogir, free time
10:55 Departure from Trogir
11:20 Free time in Blue Lagoon
13:20 Departure time
14:00 Arrival to Split
afternoon departure
14:30 Departure from Split Riva
15:10 Free time in Blue Lagoon
17:10 Departure time
17:35 Arrival in Trogir, free time
19:00 Departure from Trogir
19:30 Arrival to Split
01.05-31.05 & 01.10-31.10
departing once a day
11:00 Departure from Split Riva
11:40 Free time in Blue Lagoon
13:40 Departure time
14:05 Arrival in Trogir, free time
15:35 Departure from Trogir
16:00 Arrival to Split
Weather
Weather Tour is subject to weather conditions, and may be cancelled or the itinerary changed due to poor weather. If canceled the tour can be resceduled and you will be offered a different date or a full refund.
Please note
Designated stopping time at each destination may vary depending on weather conditions and number of visitors. If so, the itinerary may be adjusted in compliance with the guest to provide the best tour experience.
Snorkeling masks
The COVID-19 pandemic has required us to elevate our standards to an even higher level with new protocols for the current circumstances.
Due to hygiene standards, snorkeling masks won't be available for use. We recommend to bring your own snorkeling equipment.
Important: Face covering is mandatory on this tour. Please bring your own face mask!
Tour Highlights
| | |
| --- | --- |
| • | Small group experience: benefit from a more personalized service |
| • | Choose a morning or an afternoon departure according to your preferences |
| • | Soak up the sun on our speedboat while admiring the view of the surrounding islands |
| • | Visit the "Adriatic's tropical paradise" – the Blue Lagoon |
| • | Swim in the turquoise waters and explore the vibrant marine life by snorkeling |
| • | Enjoy a walk through the UNESCO-protected city of Trogir |
Tour Inclusions
| | |
| --- | --- |
| • | Hotel pick up and drop off (on request) |
| • | Transfer by speedboat |
| • | Professional skipper/guide |
Tour Exclusions
Blue Lagoon Tour
– Half Day Speedboat Tour –
€ 60
Blue Lagoon tour Experience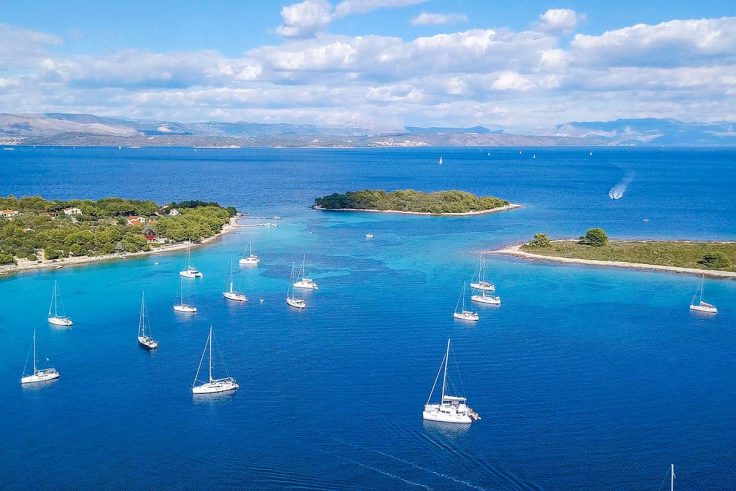 Blue Lagoon, nestled between island Drvenik and two Krknjasi islets, is the perfect destination for swimming, snorkeling and relaxing in the sun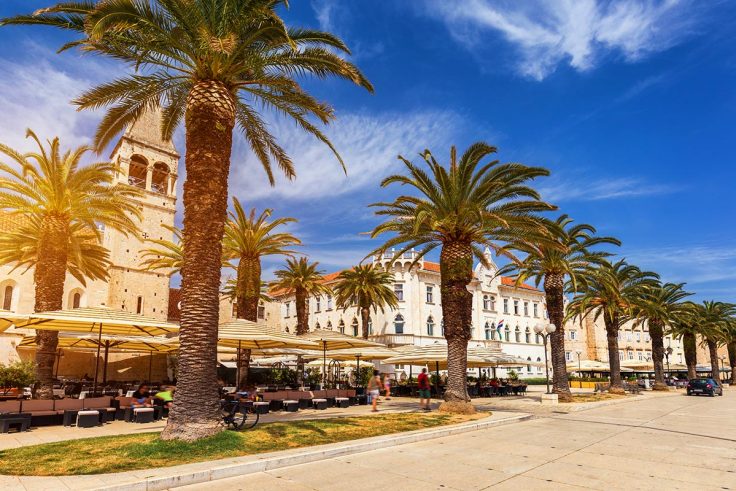 Discover fortresses, churches, palaces and charming narrow streets of this historical town, whose historical core is UNESCO World Heritage site.
We'll set off by speedboat from the scenic Split cityscape and buzz our way to the Blue Lagoon. A paradise not unlike the tropical landscapes you'd find in a film, the Blue Lagoon is a cerulean haven where different shades of blue jump at every corner you turn. The sandy seabed below and sunshine up high make this a foolproof way to spend your day.
FROM SPLIT TO THE BLUE LAGOON
Our Blue lagoon tour from Split is a half day tour with morning and afternoon departures. Depending on the departure time, we either go directly from Split to the Blue Lagoon or from Split to Trogir and then to Blue Lagoon, which is 15 minutes away by speedboat.
The speedboat ride from Split to the Blue Lagoon lasts approximately 30 minutes, during which you will cruise the channel between the islands of Šolta and Čiovo.
When the Blue Lagoon tour departs from Split to Trogir, we speed through the channel between the island of Čiovo and the mainland until we reach the old town of Trogir on a 25-minute speedboat ride
Blue Lagoon
The Blue Lagoon is pure bliss for snorkelers thanks to its crystalline sea and sandy seabed composed of crushed sea shells which, under the sunlight, pops in various shades of blue. After you've swum and snorkeled your way around the lagoon, take some time to lounge in the sun and admire the trio of islands surrounding you.
Trogir
Apart from the Blue Lagoon, you'll also get the chance to admire one of the best-preserved examples of Romanesque-Gothic architecture in Central Europe – the UNESCO-protected town of Trogir. Founded in the 3rd-century, Trogir is a museum town adorned with ancient alleyways, palaces, and castles that'll have your jaw drop in awe.
Dolphins
Better yet, did you know that the area surrounding the Blue Lagoon is a natural habitat for dolphins, and you might even get the chance to spot a few on this tour? Keep your eyes peeled as we approach the Blue Lagoon – you might be in for a pleasant surprise!
Meeting point
Office address: Obala Lazareta 3
get the directions
---
Arriving by car
July and August can get very busy, so we recommend you get clear instructions about available parking
view nearby parking map
---
Arriving by bus
Buses that stop at Tržnica (green market) near our office
2, 3, 5, 8, 9, 10, 11, 14, 15, 17, 18 and 60
view bus map
---
Free Pickup Service
Free pickup service is subject to availability.
Pick up service from Le Meridien Lav and Radisson Blu hotels are available for morning departures only.
In order to make your trip as comfortable as possible please wear casual and light clothes. If you plan to swim and snorkel in the Blue lagoon make sure you bring your swimsuit, towel and comfortable shoes. For your protection we would advise to wear sunscreen and a hat. And of course don't forget to bring your camera to capture all the amazing memories!


| | |
| --- | --- |
| • | Confirmation will be received at time of booking |
| • | Not recommended for pregnant travelers |
| • | Not recommended for travelers suffering from back and neck injuries |
| • | Not recommended for infants aged 2 and under |
| • | Not wheelchair accesible |