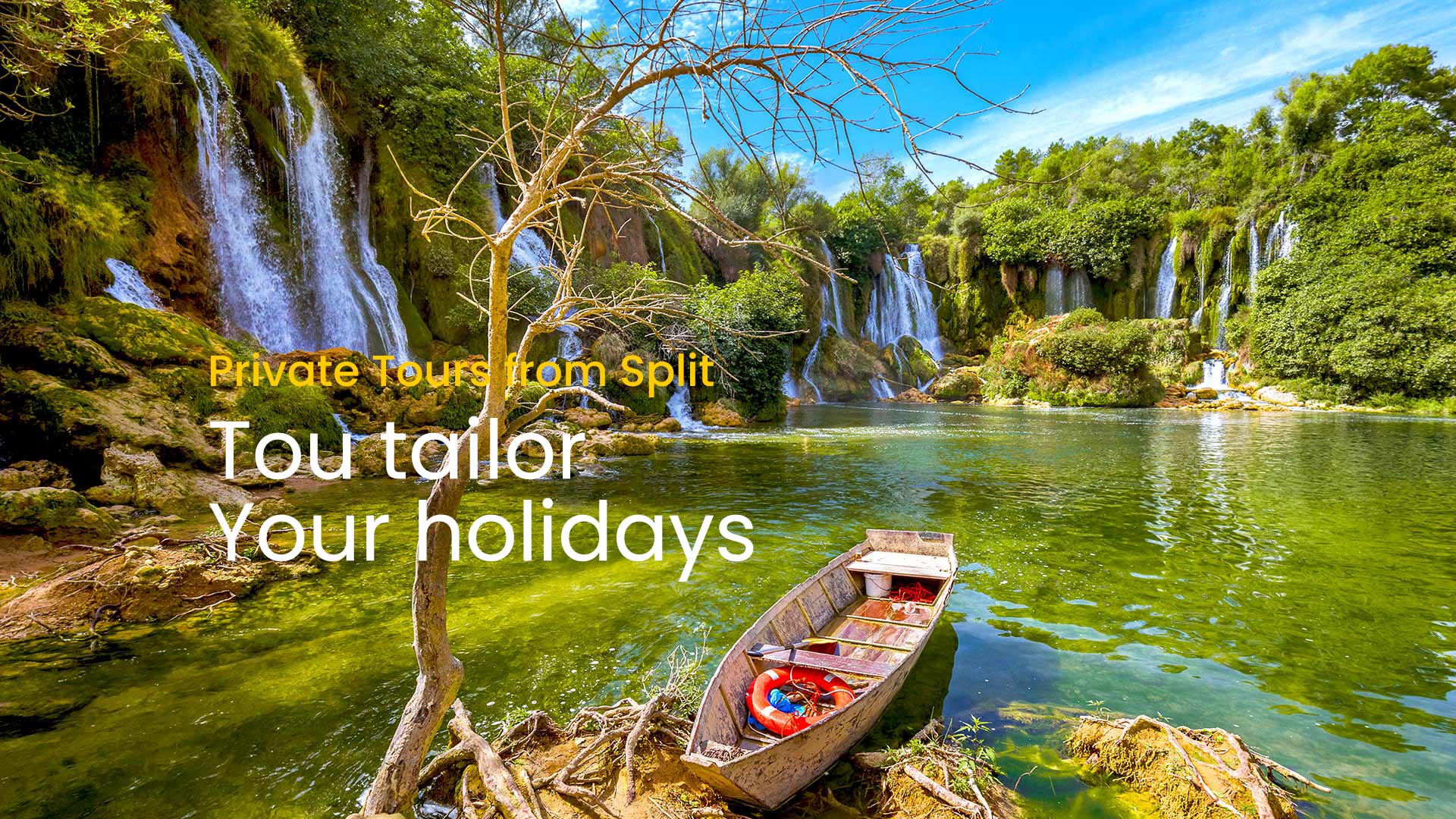 Private Tours, Perfect choice for Groups
There's something about going private that just sounds right. That touch of class, exclusivity, and power to choose at your fingertips is not only enticing, but it's possible with us. To make a private tour perfect, you're going to need choices. With our Private Tours options, you can choose one of our tours from the list and simply bring along only the group you choose, or you can customize a trip entirely for you. It's your adventure, make it fit you perfectly.
Got your group of four or more? Great! Now the fun part – selecting your trip!
€ 1400 for up to 12 people
Join us for a dream day out at sea where you not only get to visit the mesmerizing Blue Cave on Biševo island, but we'll take you some of the country's best hidden coastal gems you could only find with the help of a local guide. We'll breeze by secluded coves, award-winning beaches, and breathtaking bays and make sure you don't skip a beat. From Hvar town's vibrant history coupled with island glitz and glam to the lesser-known lands of olives and honey, you'll have the chance to explore Dalmatia's charming island utopias before we jet you back to Split.
€ 700 for up to 12 people
Did you know that you're just one swim away from a cerulean paradise; where a rainbow of blue will captivate you? Meet the Blue Lagoon, an ultramarine haven just a 40-minute speedboat ride away from Split. Because Croatia's coast is best experienced by boat, we have an unforgettable day at sea planned for you in the Promised Land; a day where you'll not only bask under the summer sun in a tropical bliss, but where you'll also get a taste of Croatia's colorful history.
€ 1299 for up to 12 people
Thanks to our full-day private tour to Hvar, the Pakleni islands, the Blue Lagoon, and Trogir, you get a healthy balance of Croatia's coastal charms and compelling history. From the island glitz and glam of Hvar town to the forested Pakleni islands, the cerulean Blue Lagoon, and ancient streets of Trogir, you'll get to see it all – and you get to have it your way.
From € 500
You know those Instagram photos you're always envious of? The ones with carefree tourists swimming under fairytale-like waterfalls in Croatia? That can be you, too. Meet Krka National Park, one of Croatia's essential locations and an item you must check off of your travel checklist. Fortunately for you, we have a private tour that we believe will not only make your Krka experience unforgettable, but if you choose to plan it with us, it will be a breeze.
From € 850
Our tour begins early from Split to ensure we waste no time in getting you to your park adventure. While a four-hour drive might otherwise sound like your worst nightmare, it's quite the opposite with us thanks to our luxury air-conditioned vehicle WITH free WiFi. How bad do those 250 kilometers sound now? Equipped, comfortable, and at ease, we'll make it to Plitvice before you know it. And don't hesitate to use our guide as entertainment; they'll be with you on the way as a wealth of local knowledge and information.
From € 850
While all of our tours in Croatia are a treat, we'd also like to tempt you with the beauty of our neighbors in Bosnia and Herzegovina. Let us take you inland for a tour that marries the magic of nature with vibrant ancient cities. Discover the diversity of western and eastern architectural styles which can be seen around every corner as soon as you cross the Croatian border.
€ 250 for up to 10 people
While you can join our Split City walking tour led by our expert guide, you can also witness Split's best attractions and alleyway highlights by going private with us. Dig into the vibrant lifestyle of Emperor Diocletian's former home and discover just why Split has an allure that has people coming back for more. A bit of history, a lot of beauty, and a culture that will inspire from the ancient days to modern ways.
From € 850
Whether you are visiting Dubrovnik for the first time or the hundredth, it will never be any less impressive, and promises always to keep its "WOW!" factor. Once you've set your eyes on its medieval walls, ancient buildings, and cobblestone streets, you'll certainly feel as if you've been transported into another dimension. Inside the city, the red rooftops, old stone churches, and countless monuments seamlessly complete the cityscape which is still untouched in the 21st-century.
€ 1100 for up to 12 people
One of the best island tours from Split is undoubtedly those that run to Hvar and the Pakleni island archipelago. Fortunately, with us, you can not only join this tour, but can customize it to your liking to ensure that it's fine-tuned and flexible for you and your guests. In case you need a bit of direction, you'll find a Hvar itinerary we trust below, but since it's a private tour, feel free to modify or enhance any of it according to your desires.
€ 1100 for up to 12 people
You might not be familiar with the island of Brač or the town of Bol, but we guarantee you've seen images of Croatia's famous Zlatni Rat beach (or Golden Cape in English). Why, might you ask? Because no Croatian brochure, promotional video, or travel magazine misses an opportunity to show off this iconic cape. Zlatni Rat beach is one of the Adriatic's most distinctive beaches and is ranked as one of the most beautiful beaches in the world on many renowned lists.
on request

While Croatia boasts over a thousand islands, it's hard to find any that can match Hvar and its illustrious party reputation. Famous for its bustling club scene, after beach parties, and colorful bars, Hvar's nightlife attracts young, party-hungry travelers from all over the world who are after a taste of this festive island paradise. Hvar is a haven for clubbers and sunrise enthusiasts – and you can see it all with us with a tasty cocktail in hand.
on request
On our hiking tour of the Dalmatian hinterland, you'll get to experience breathtaking panoramic views of the region, discover historic Croatian monuments dating back to the 9th century, and enjoy a real culinary feast as our chef prepares "peka" inside an authentic Dalmatian tavern.
2. Go for a tailored fit
Want to personalize your trip to really make it yours? Have some other destinations at mind? Want to go off the beaten path and avoid the crowds? Tack on a few destinations or add in some fun activities. You can enhance any existing itinerary with some of your own add-ons, or suggest your own intinerary to our team who will help you to tailor it perfectly according to your preferences.. Talk to our Team to learn more about available enhancements.
Have a question? Contact us
CONTACT INFO
If you need additional information please fill out the contact form or feel free to contact our team, we are at your service 24/7
Office working hours: 07:00 – 22:00
Why go private?
Skilled guides
Every trip comes with an expert guide responsible for enriching the journey, offering local insight, adding unique personal perspective, and generally making each trip the very best it can be.
Flexible pricing
Booking a private group departure with Sugaman Tours has some pretty amazing benefits. We can work with any budget, large or small.
My Own time
You are not an early bird? Love sleeping in? We give you the power to choose the departure time that suits your group best. When you work with the best experts you can afford to be this flexible.
Your group, your way
Our private group trips range in size from four to even 40 (and sometimes many more!) Whatever your group size and type, we'll design inclusions that suit your unique needs, like meals, family activities, photography experts, etc.
Because we want to ensure your experience with us is the intimate affair you're after, we'll work closely with you to adjust our tours to your wishes and promise to meet your demands as best as we can. Going private has other perks, too – like the minor but oh-so-crucial detail that it's your group, our tour guide, and no one else. Because who wouldn't want a speedboat or minibus to themselves? That's right, everyone does. Even you.
While you can make any of our signature tours private, you can also choose from our selection of private tours to some of the top islands around Split. It's simple – we've provided you with the tour templates and suggested itineraries, and you are free to spice them up according to your heart's desire. And if you're stuck, don't fret – we'll be right by your side through the process to ensure the tour for you and your group is nothing less than perfect.
So, remind us again why you wouldn't choose going private?