€ 145 per person / Blue Cave and Krka Waterfalls Combo Saver!
Save € 20
Tour description
So, you're in the region of Dalmatia and want to visit the most popular attractions in the area – what do you do? Lucky for you, we have a combo tour that includes two of the best outdoor activities Croatia has to offer. After a day at sea on our speedboat tour to the mesmerizing Blue Cave, you'll have the chance to explore the most extensive travertine system in Europe and rejuvenate at Krka National Park. A foolproof balance of a day at sea with a touch of nature – how could you go wrong?
BOOKING OPTIONS
This booking is on request. Out team will contact you shortly to confirm the booking.

Blue Cave and Krka Waterfalls
– save € 20 –
€ 145
Blue cave & Hvar tour
Ticket Price: € 125
Grab your family and friends and hop on board with us to explore the breathtaking locations on our Blue Cave & 6 islands tour. Fix your eyes on the prize – the Blue Cave, and take a dip into the turquoise sea before encountering the vibrant history and thriving culture of Hvar town – one of Croatia's summer hot spots.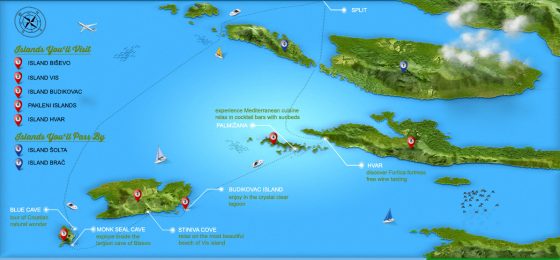 Useful tips
Keep your cameras handy; there will be plenty of photo ops on this speedboat tour.
Since it is a boat excursion, it's smart to bring a waterproof phone case to protect your phone and camera.

Don't forget to wear your swimsuit and bring a beach towel so you can jump in the amazing turquoise water.
To make your tour more comfortable we recommend bringing a hat, sunscreen, swimming shoes and camera to capture every moment of the day.
Krka & Trogir tour
Ticket Price: € 40
Any chance you get to connect history and nature is a good one – and this tour does just that. After visiting the top attractions in the UNESCO-protected town of Trogir, we'll travel to Skradin for a scenic boat ride through the Krka river canyon where you can marvel at the intact nature of this popular park.
Useful tips
If you are taking this tour in June, July or August, we recommend you wear comfortable walking shoes and have a pair of flip flops handy to ensure you can make the most of the Skradinski Buk waterfall. You want to swim after all, right? Changing rooms are also available inside the National Park.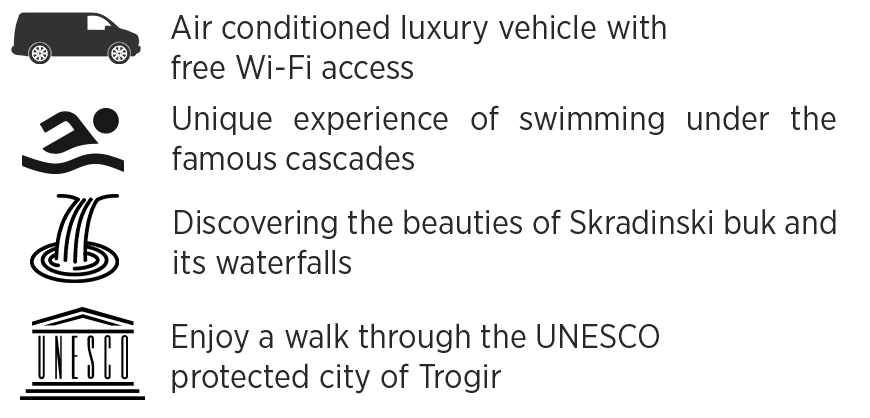 Don't forget to wear a swimsuit and bring a beach towel so you can enjoy the inviting waters of Skradinski buk to the fullest. To ensure you're the most comfortable you can be, we recommend bringing a hat, sunscreen, water shoes, and a camera so you can snap the best parts of the day.