€ 165 per person / Blue Cave and Plitvice Lakes Combo Saver!
Save € 25
Tour description
If you're someone that likes a taste of everything on your travels, you'll want to join one of our combo tours – they are the perfect mix of everything, after all. With this combo tour, you'll get to spend a day at sea on a speedboat adventure to the Blue Cave AND explore the breathtaking natural world of the famous UNESCO Heritage site – Plitvice Lakes National Park.
BOOKING OPTIONS
This booking is on request. Out team will contact you shortly to confirm the booking.
Blue Cave and Plitvice Lakes
– save € 25 –
€ 165
Blue cave & Hvar tour
Ticket Price: € 125
Uncover the mesmerizing Blue Cave on Biševo island before exploring the Monk Seal Cave and the award-winning European beach Stiniva Bay. Dive into the snorkeler's paradise of Budikovac island before posting up at the enchanted Palmižana Bay. This tour ends with the cherry on top – the chance to wander the ancient streets of Hvar town before hopping in the speedboat back to Split.
Useful tips
Keep your cameras handy – you'll quickly see why the Blue Cave is one of Croatia's prized natural wonders.

What to bring with you
Water/windproof jackets are provided on the boat, but we encourage comfortable shoes and casual clothes. Since you'll spend the day at sea, sunscreen, a hat and sunglasses are a must!
Plitvice Lakes tour
Ticket Price: € 65
This is your chance to explore Plitvice Lakes, the biggest national park in Croatia, which has also secured a spot on the UNESCO World Heritage list. Delve into its 16 colorful and interconnected lakes, lush forests, and abundant flora and fauna that are destined to secure a spot in your memory bank.
Useful tips
Dress casually and wear comfortable walking shoes to ensure nothing can stop you from enjoying this park to the fullest.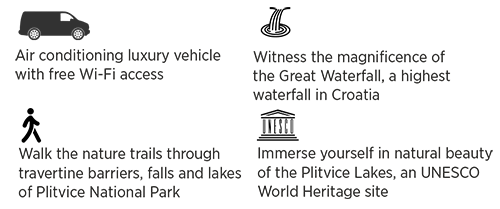 What to bring with you
Don't forget your camera – Plitvice Lakes is a haven for photographers of all types. Carry snacks and lots of water to ensure you're hydrated and energized for a full day at the park.