€ 159 per person / Blue Cave – Krka Waterfalls – Split City Tour
SUPER COMBO SAVER – SAVE € 20
Tour description
If you're trying to make the most of your Croatian vacation and hope to pack in as much as you can, you'll like what we have to offer. On this tour, explore the waterfalls of Krka National Park, witness the mesmerizing Blue Cave and wander through the ancient and UNESCO-protected streets of Split with an expert guide.
BOOKING OPTIONS
This booking is on request. Out team will contact you shortly to confirm the booking.
Blue Cave-Krka Waterfalls-Split City Tour
– save € 20 –
€ 159
Blue cave & Hvar tour
Ticket Price: € 125
Uncover the mesmerizing Blue Cave before exploring the Monk Seal Cave and the award-winning Stiniva Bay. Dive into the snorkeler's paradise of Budikovac island before posting up at the enchanted Palmižana Bay. This tour ends by wandering the ancient streets of Hvar town before the speedboat back to Split.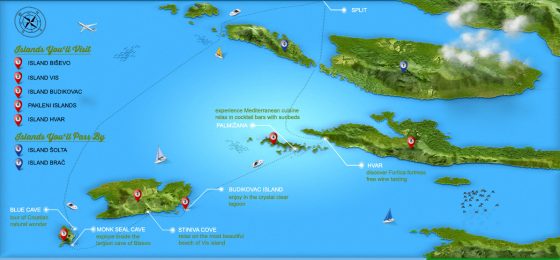 Useful tips
Water/windproof jackets are provided on the boat, but we encourage comfortable shoes and casual clothes. Since you'll spend the day at sea, sunscreen, a hat and sunglasses will be your best friend!
What to bring with you
Keep your camera handy, though it'd be smart to keep it in a waterproof case, and carry a charger in tow! While water shoes are optional, a swimsuit and towel are a must – you won't want to miss a chance to swim here.
Krka waterfalls & Trogir tour
Ticket Price: € 40
Begin by uncovering the magic of the old town of Trogir, one of Croatia's prized UNESCO World Heritage Sites, where you'll cruise its ancient alleyways and marvel at its striking architecture. After absorbing a bit of history, you'll delve into the captivating natural world of Krka National Park.
Useful tips
Let the wooden footpaths guide you through this unique natural wonder – but be sure to wear comfortable shoes so you can enjoy it to the fullest. If you're taking the tour in the summer, keep your SPF, hat, and sunglasses handy.
What to bring with you
Because the highlight of Krka is certainly the Skradinski buk waterfall, come prepared with a swimsuit, towel and water shoes. A water bottle to refresh from the already refreshing water is a smart move to keep you hydrated.
Split City tour
Ticket Price: € 14
Our local guide will reveal the secrets that lie within yet another UNESCO gem – 1700-years-old Diocletian's Palace. Uncover why the old town is the heartbeat of this thriving city as our guided tour of the city takes you to the must-see places inside the Palace, revealing all its stories from the past.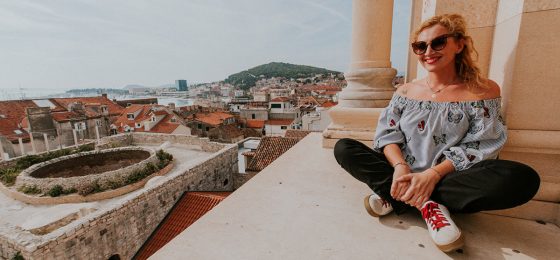 Useful tips
We'll do a bit of walking on this tour, so a pair of comfortable shoes and breathable clothes should be your priority. And if you're sensitive to the sun, don't be afraid to strut your sunglasses as the Split locals do!
What to bring with you
Since you'll need to quench your thirst on these hot summer days, keep a cool water bottle close. We'd also encourage wearing a hat and loading up on SPF to ensure your tour is as comfortable as can be.