€ 159 per person / Hvar, Blue Lagoon & Trogir – Plitvice Lakes – Split City Tour
SUPER COMBO SAVER – SAVE € 20
Tour description
If you want a taste of Croatia's canyons, coast, ancient cities and captivating islands, you want to keep reading… because you won't find a better tour than this. Dive into the depths of the colourful Blue Lagoon, visit the venerable coastal towns of Hvar and Trogir, hike through the limestone canyon, lush forests, and roaring waterfalls of Plitvice Lakes National Park, and delve into the vibrant history of Diocletian's Palace in Split – are you ready to take it all on with us?
BOOKING OPTIONS
This booking is on request. Out team will contact you shortly to confirm the booking.
Hvar, Blue Lagoon & Trogir-Plitvice Lakes-Split City Tour
– save € 20 –
€ 159
Blue Lagoon, Hvar & Trogir
Ticket Price: € 100
The hypnotizing Blue Lagoon is a delight for all enthusiasts of the sea, raw beauty, and a compelling palette of colors. Surrounded by three isolated islands, Krknjaši Bay is your prime position to post up under the pines and uncover the depths of the underwater world below you. It is a utopia for snorkelers, after all. From the Blue Lagoon, we'll head to Hvar, an island town with celebrated culture, where we'll wander through its rich heritage and history. To end, we'll visit Trogir, where you'll have some free time to gaze around the old town and admire the breathtaking historical sights.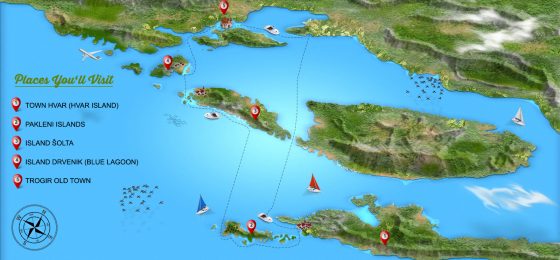 Useful tips
Did you know that Hvar is the sunniest island in this part of Europe? With that in mind, we suggest you bring a hat, and all the accessories needed for a day in the sun. A change of clothes and water shoes are always a good idea.
What to bring with you
Since you'll have time to swim at the Blue Lagoon, you'll want to bring a swimsuit, towel, and load up on SPF! And because you'll want to remember these views for a lifetime, don't forget a camera (and if yours can go underwater, even better).
Plitvice Lakes tour
Ticket Price: € 65
This is your chance to explore Plitvice Lakes, the biggest national park in Croatia, which has also secured a spot on the UNESCO World Heritage list. On this tour, you'll get to delve into its 16 colorful and interconnected lakes, lush forests, and abundant flora and fauna that are destined to secure a spot in your memory bank. You'll travel from the Upper Lakes to the Lower Lakes, where you'll also find Croatia's tallest waterfall, enjoy a scenic boat ride, and follow nature's trails for a foolproof way to spend your Croatian holiday. Because who doesn't want to chase waterfalls for a day?
Useful tips
Dress casually and wear comfortable walking shoes to ensure nothing can stop you from enjoying this park to the fullest. Check the weather and choose the proper attire as each season at Plitvice brings something different. No matter the season, you'll need to stay hydrated – so make sure you have enough water to take you through the day!
What to bring with you
Don't forget your camera – Plitvice Lakes is a haven for photographers of all types. Carry snacks and lots of water to ensure you're hydrated and energized for a full day at the park. And if you're sensitive to the sun, load up on SPF, whip out your sunglasses, and take along your favorite hat!
Split Walking tour
Ticket Price: € 14
Split, which is also known the Dalmatian capital, is full of surprises, and with our local guide, you'll have the chance to uncover the secrets that lie within one of Croatia's prized UNESCO gems – Diocletian's Palace. Discover why the old town is the heartbeat of this thriving city as you wander through its ancient alleyways.  This walking tour will stimulate all of your senses and give you just the right dose of Split's history and easygoing lifestyle you'll witness today. Make sure to have your camera ready as there are photo opportunities at each corner of the Palace.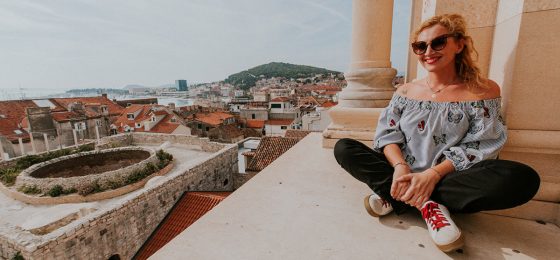 Useful tips
Since we'll do a bit of walking on this tour, a pair of comfortable shoes should be your top priority, though we'd argue that breathable clothes are right up there, too. Don't be afraid to strut your sunglasses as the Split locals do, and to avoid one of the biggest travel fails – don't forget your camera!
What to bring with you
Since you'll need to quench your thirst during the hot summer days, keep a cool water bottle close to stay hydrated and energized. We'd also encourage wearing a hat and loading up on SPF to ensure your tour is as comfortable as can be. If you're sensitive to the sun, you know what you need to do!