Since the Adriatic has always been an important crossroads between the East and the West, during the expansion of the Hellenistic culture in 4th century B.C. two important Greek colonies were found on today's islands of Vis and Hvar. Former settlements of Issa (Vis island) and Pharos (Stari Grad on Hvar island) were important strongholds for further expansion over the Dalmatian mainland. Due to the limited number of fields with fertile land on the islands, colonization later on continued from here to nearby Tagurion (Trogir) and Epetion (Stobreč), thus clearly confirming Greek influence over Dalmatia.
Settling islands Vis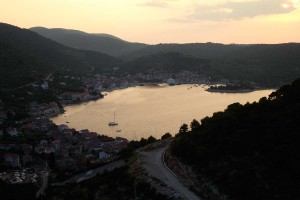 The colony of Issa was established around 397. B.C. and  was situated on the northern end of Vis island, thus serving as a starting point for further colonization. It was surrounded by 800 m long thick wall and long beaches. After the Greeks, Roman Empire also recognized the importance of this colony and made their own stronghold, leaving us great examples of Greek and Roman architecture in one place. Up to this date the remains of two graveyards dating back from 4th century B.C. and the remains of antique thermae were found. Further excavations will certainly bring some more wonders to the surface.
Pharos on island Hvar
After founding colony of Issa, Greeks decided to move closer to the mainland, so they founded colony of Pharos in 384. B.C., where today's Stari Grad on Hvar island is situated. This is one of the most important Greek colonies in Croatia, since Greeks left a legacy of extremely precise divisions of land particles, which is the best preserved Hora (field) of the sort. Today, only part of the northern wall remains to witness the important Greek settlement, together with small items found all around the city, which are kept in the city's museum.
Stari Grad (ancient Pharos) is most definitely worth visiting and Šugaman tours can take you there to explore the amazing legacy of the Greek culture in the vicinity of Split.