Have you ever searched for the perfect sea scenery that you could put as a desktop wallpaper on your PC and then you found a group of little green islands in the middle of nowhere? Well, the chance is you found a photo of the Pakleni Islands in Croatia!
The Pakleni Islands are located near the island of Hvar and are a little green paradise surrounded by mesmerizing blue Adriatic Sea. The island formation consists of 16 little islands with no regular inhabitants except during some days in summer. And when you look at these photos, we totally understand them because coming to a forest heaven located in a blue paradise is something everyone should experience, and so should you.
The biggest of the Pakleni Islands is called Saint Clement and it was inhabited in the prehistoric period. Even the Ancient Romans loved to enjoy this beautiful island scenery so they built an ancient rural property with pool and extraordinary mosaics on the southern side of the island. Today, there are just a few peaceful little settlements for tourists, far away from the summer crowds. During 15th century the Franciscans from Franciscan monastery used to extract salt and flee the cattle here.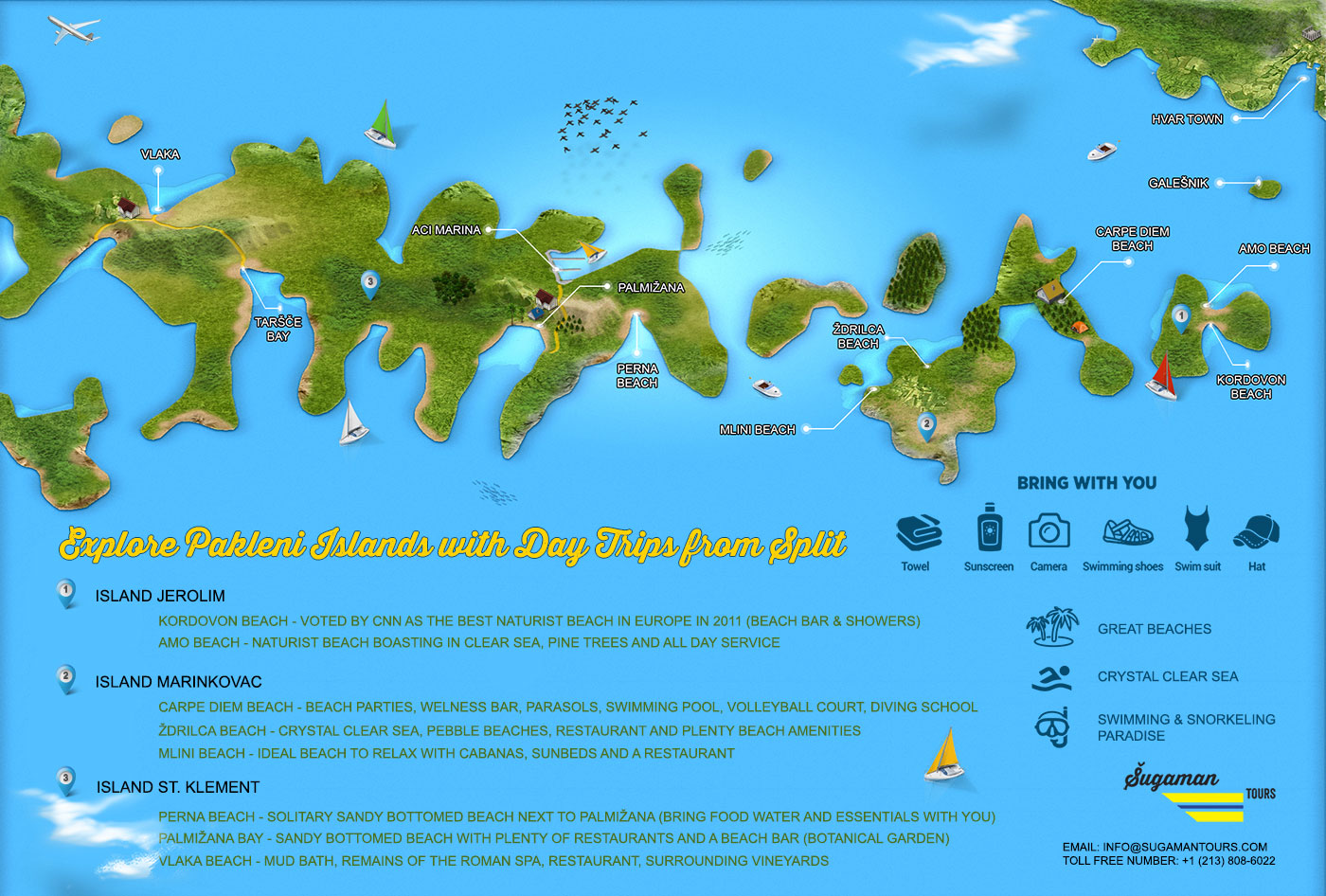 DID YOU KNOW?
The name of Pakleni islands translated in Croatian language means Hell's islands. We promise they look more like heaven ☺
The name derives from the noun "paklina" which is melted down pine used to coat ships, described as "being black as hell".
We will sail with you to those beautiful islands and let you enjoy swimming in the depths of our azure sea. Since there are lots of islets, there are numerous bays and beaches to visit and even see. Is there anything more beautiful than a view on the greenery and the blue sea with white sailing boats and ships, calmly dancing with the waves?
A tour to the Pakleni Islands offers you some relaxing sunny time with your family, children, friends or altogether! Sail into the azure bay in the middle of the untouched nature, swim away and have a lunch in some of numerous restaurants at the beach. If you want, you can take a walk trough the greenery of the woods, which is exclusively recreational. The Pakleni Islands are also the center of diving tourism, another refreshing activity if you want to explore underwater world around the islands, and it is a great activity for adults and children.
On our Blue Cave & Hvar tour and tour to Blue Lagoon, Hvar & Trogir you would have an opportunity to visit Pakleni islands and its incredible bays. With so many to choose from it's hard to know which one will leave you most speechless. While on private version of our tours we recommend trying to see as much as it is possible, and also we have created guide to meet the spots you are going to visit on our day tours.
Palmižana bay
It is the most popular bay of the archipelago and recommended by numerous world famous bloggers and magazines and for good reasons. Palmižana bay offers a perfect combination of unspoiled nature and beaches and perfectly designed restaurants and waterfront bars. Join its bustle scene, drink some cocktails and cool off in crystal clear sea. Try domestic freshest seafood possible on terrace of the restaurant and admire incredible view to the turquoise bay and luxury boats.
Don't hesitate to explore further into the lush because you would find botanical garden surrounded by pine trees and rustic and wooden sculptures. Find amazing exotic plants growing in the middle of the island and take a pictures from different points while relaxing in shade of the forest. Enjoy traditional vibe of this bay before heading to the bustling city of Hvar.
The city of Hvar
The old town of Hvar is widely famous in Europe for many cool reasons and usually is packaged with visiting Pakleni islands. First of all, the island of Hvar is the sunniest island in Europe and it is almost impossible to experience snow! So, you can be almost 100 % sure that you will visit Hvar during sunny weather in summer. And drinking coffee or cocktalis on the sunny island, in a chic shade of wonderful bars – is there anything more relaxing?
While you drink your cocktail, your nostrils could be triggered by a mild smell of lavender. Hvar's lavender is the finest in whole Europe! A bottle of etherical lavender oil is a practical souvenir that will remind you of wonderful summer holidays in Dalmatia!
While there are a lot of wonderful crowded and vivid tourist destinations in Dalmatia, the Pakleni Islands are perfect for those of you who seek a peaceful destination – not crowded yet relaxing, but also adventurous. Event the photos of the islets make us fall in love with it, now imagine how beautiful this green paradise is when you find yourself approaching it in the middle of clean blue Adriatic sea, white sailing boats by the shore dancing with the waves in front of you… We guarantee you it will be number one sea view of your summer!