After we have visited and enjoyed the beauty of the Blue Cave, Stiniva Cove, Green Cave and Budikovac island our Blue Cave and Hvar tour takes us to the small and uninhabited tourist village called Palmizana. Palmizana is located on the island San Clemente which is part of the Pakleni islands archipelago. We moor our boat at the bay on south side of Palmizana island, while on the north side of Palmizana you will find marina which can accommodate up to 200 boats with a small shop and tourist office.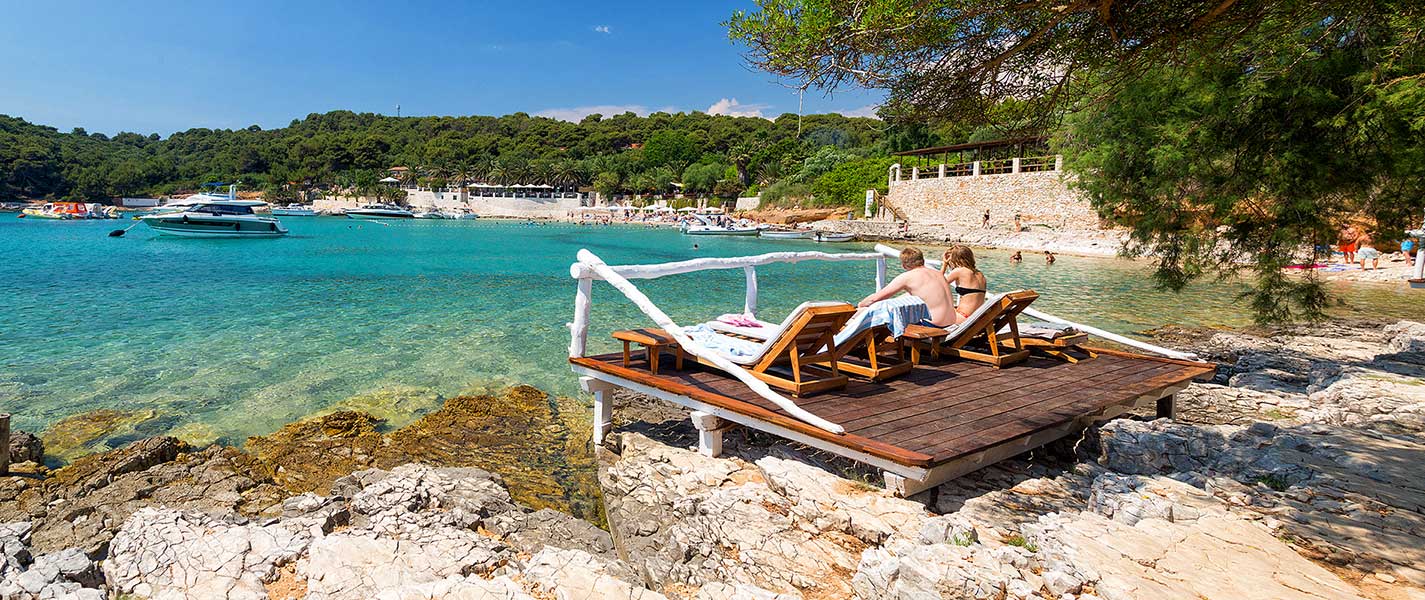 Upon our arrival at the south bay of Palmizana, we will introduce you with beaches, bars and restaurants in Palmizana so that you can decide what you want to do and how you want to organize a little over two hours that we will spend there.
At Palmižana
As we moor our speedboat on the pier right next to the central beach, you can choose one of the waterside restaurants. One of the restaurants we like to recommend among the others is Meneghello restaurant. As well as the others it has a wide choice of typical local meals with fresh ingredients all served in a great atmosphere. Meneghello family was responsible for tourism development of Palmizana and has played a significant part in the history of this beautiful island.
In the past, Meneghello family has imported exotic plants from all over the world and has created a breathtaking botanical garden which spans from the main beach all the way to their restaurant. This makes the walk to the restaurant particularly enjoyable no matter how many times you visit there. Also the island is covered with rosemary (Palmizana's second name is The island of Rosemary) which fills the air with its particular scent, and also with Aloe plant growing all over the island.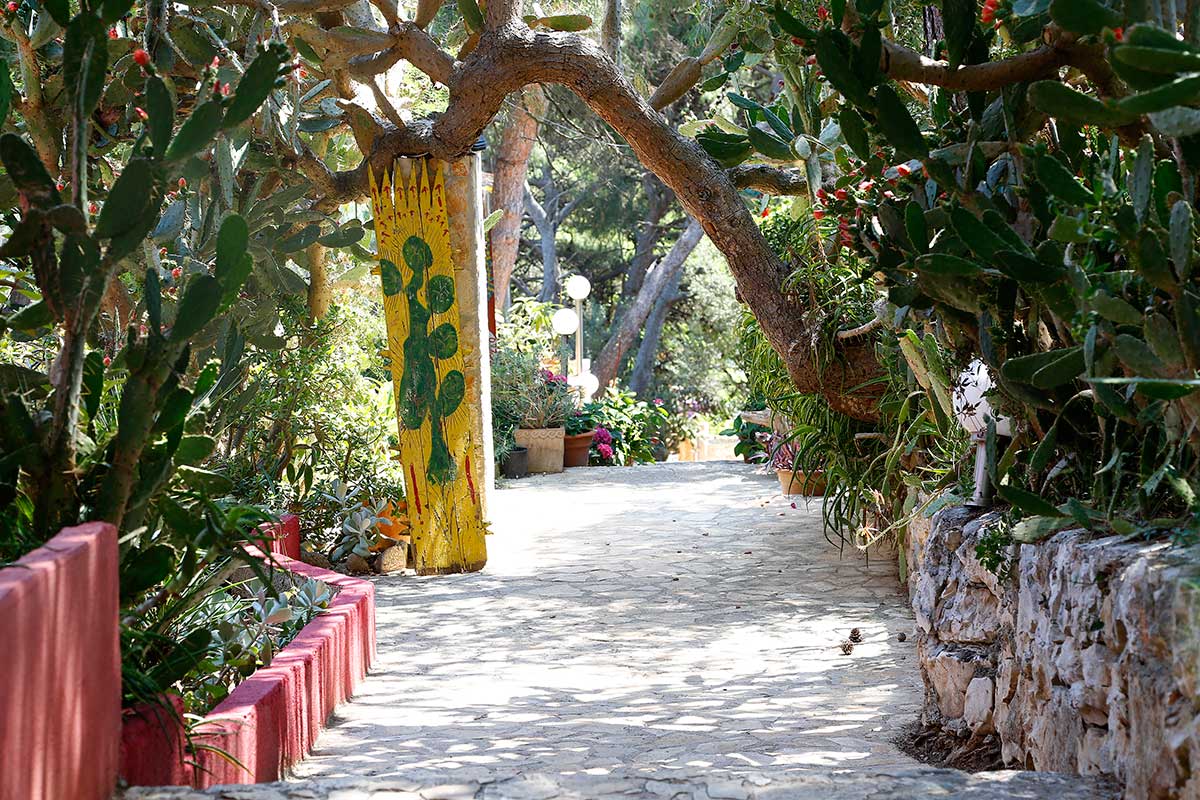 Once at the Meneghello restaurant, you will get the unparalleled view on the entire Palmizana bay as the restaurant is some 50 meters up the hill which gives it ideal position for panoramic view of the entire Palmizana bay.
At the restaurant you will be able to enjoy in the artwork of Croatian artist which makes it a unique island gallery.
Looking from the restaurant the main beach is right below you. It is a long but narrow pebble beach, while the sea floor in front of the beach is all in white sand producing its beautiful and transparent color. The beach is pretty shallow up to the point which is a perfect place for swimmers of all experience levels to enjoy.
On your left side, still looking from Meneghello restaurant, you will see a number of bungalows which are a part of famous Laganini bar. Laganini bar is an ideal place for younger people who enjoy the sounds of modern music while relaxing near the beach with the cocktail in hand.
The right side of Palmizana bay is empty of bars, restaurants and other man made objects. With its rocky coasts it is ideal place for those who wish to find a solitude and enjoy the sound of the sea and nature around them.
We do recommend that you have your lunch in Palmizana either in Meneghello or any other restaurant inside the bay because traditional cuisine of Palmizana is highly praised for its specialties primarily based on fish, shellfish and lobsters, usually served with fresh vegetables picked right from the gardens of Palmizana. German magazine Boote, English Traveler and few other Croatian magazines have named Palmizana cuisine as one of the best in the Mediterranean.
HVAR, PAKLENI ISLANDS, BLUE LAGOON & TROGIR
Our signature tour to town Hvar on Hvar island, swimming excursion to Pakleni islands archipelago, secluded bay on Solta island, the turquisse sea of Blue Lagoon and sightseeing of UNESCO World Heritage site, town of Trogir.
BLUE CAVE, PALMIŽANA AND HVAR TOUR

Full day speedboat tour from Split to Blue Cave and Hvar is our most popular signature tour. You will island hop 5 Split islands visiting Blue Cave, Monk Seal Cave, Stiniva Cove, Budikovac Lagoon, Palmizana and Hvar town.
Photo Gallery of Breathtaking Palmizana on Pakleni islands
After you have enjoyed the traditional Dalmatian cuisine you will still have over one hour to enjoy the Palmizana beach, sunbathe and relax before we leave for the final destination of our Blue Cave tour, the city of Hvar on Hvar island.