After we have visited Blue Cave on our Blue Cave and Hvar tour from Split we headed out with our speedboat towards the popular Vis attraction, the Stiniva Cove.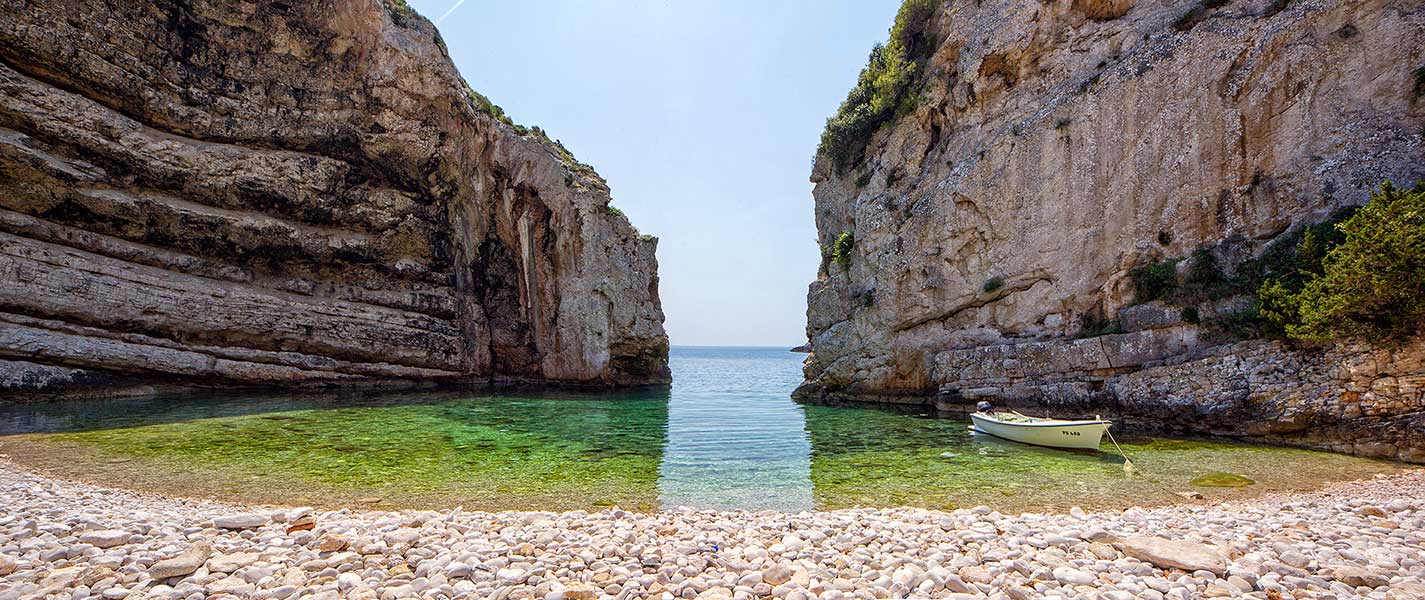 Because there are no more islands to the south of the island of Vis, except for Italy in the distance, the strong southern wind created waves which served as an artist who has carved the south side shores of the Vis island for centuries. The masterpiece is still in progress and it is truly a work of art which is definitely worth to visit. These are great spots to take some photos and marvel the beautiful power of nature.
You will also notice that the lowest part of the rocks coming out of the sea is black in color. As we had geologist once on our Blue Cave and Hvar tour, he explained to us that those black spots are actually volcanic ash mixed with stone from a volcano which erupted over 65 million years ago.
Shortly after we have marvelled in the artistic rock formations, we will enter a large bay of Stiniva. It is again time to take out your cameras as Stiniva cove at the bottom of the bay is another perfect spot to take breathtaking photos. As we slowly arrive to the cove you will begin to notice the Stiniva gates, two big rock formations forming an entrance into the small bay with pebble beach on the shore.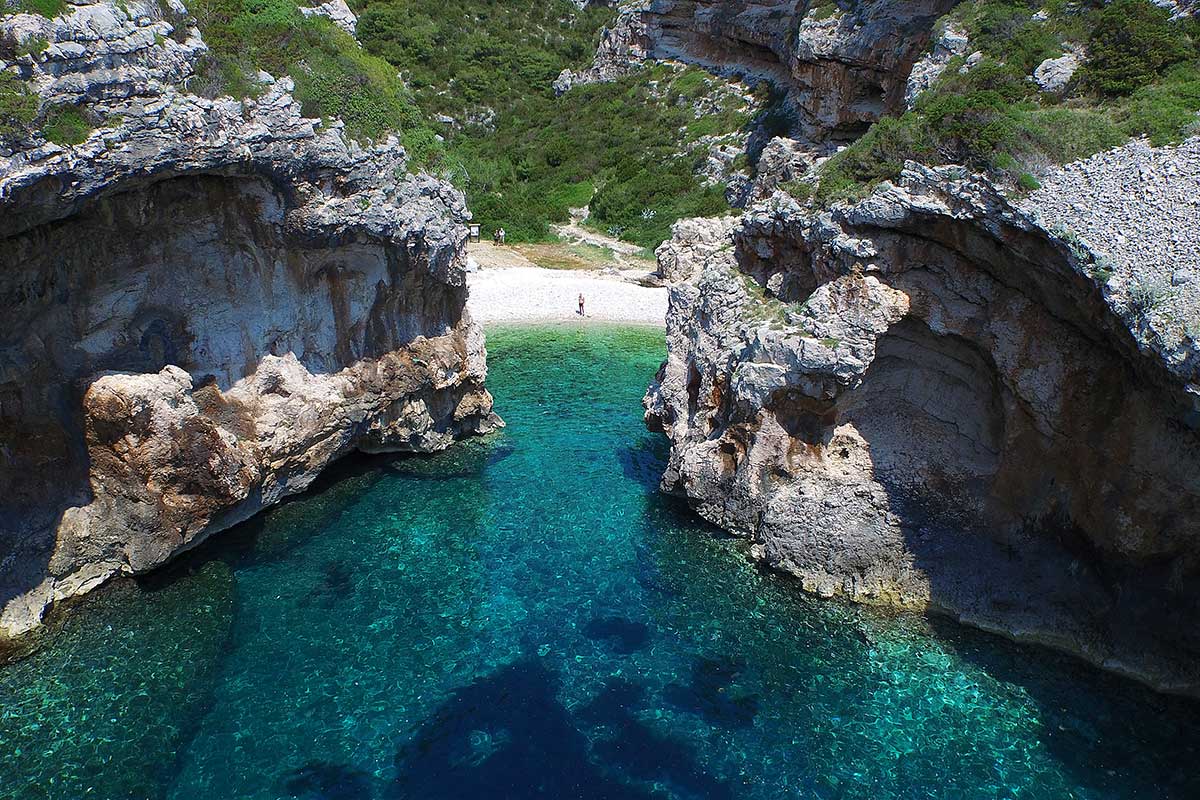 It is believed that the Stiniva cove was actually the cave in the distant past and the gates were the entrance to the cave. However the ceiling of the cave collapsed into the sea, forming what we now know as the Stiniva cove.
The sea inside the bay of the Stiniva is the clearest deep blue color you will likely ever see. It makes you feel as if you can breathe naturally once you dive beneath its surface. We usually moor our boat just in front of the Stiniva gates which marks the time for swimming and enjoying in that breathtaking deep blue sea.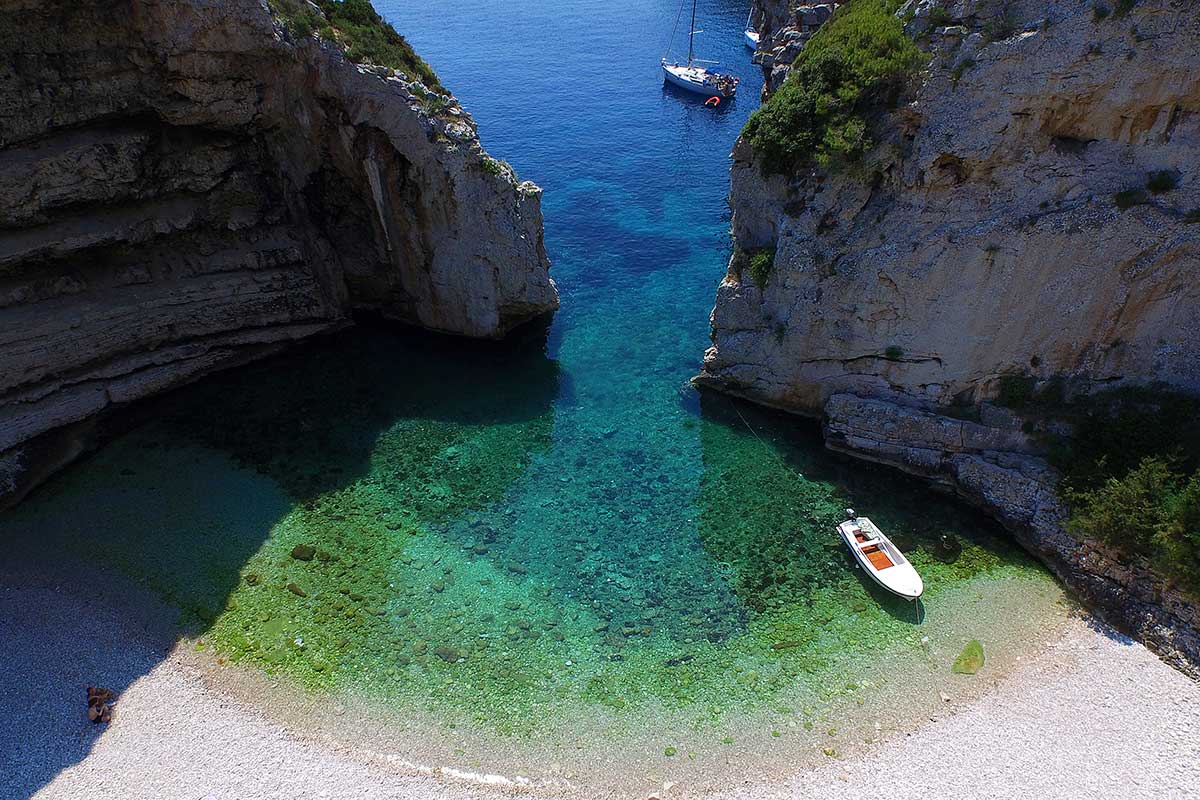 As you jump from our speedboat into the sea, you can take a short swim through the Stiniva gates, which is definitely worth experiencing, and find yourself inside the Stiniva cove with the unparalleled view on the rock formations all around you. Take some time and get out on the pebble beach of Stiniva to take in as much of the powerful nature which has once again outdone herself in constructing this unforgettable cove.
Amazing Photo Gallery of Stiniva Cove on Island Vis
After approximately half an hour we leave Stiniva Cove in the distance as we speed towards uninhabited island of Ravnik to visit its most recognizable landmark, the Green Cave.