Split Blue Cave Tour is one of the most exciting and richly featured day trips from Split that you can do in a single day. In order to create such a feature rich daily program and explore 5 islands, numerous attractions and famous Dalmatian destinations, we are doing the Split Blue Cave tour with our fast and reliable, yet action packed speedboats.
Blue Cave Tour from Split starts in the morning hours every single day during the summer season. We meet approximately half an hour before the tour in our downtown office or in front of Sugaman tours stand on Split's famous promenade.
Split's promenade, or how we call it – Riva, is the perfect example of a place in which Dalmatian people like to spend their relaxing hours during the day. Whether it is morning, afternoon or evening, you can always see countless people relaxing, enjoying good company and conversation in numerous bars and restaurants located on the promenade just meters from the sea with a beautiful view of nearby Brač and Šolta islands spreading before you.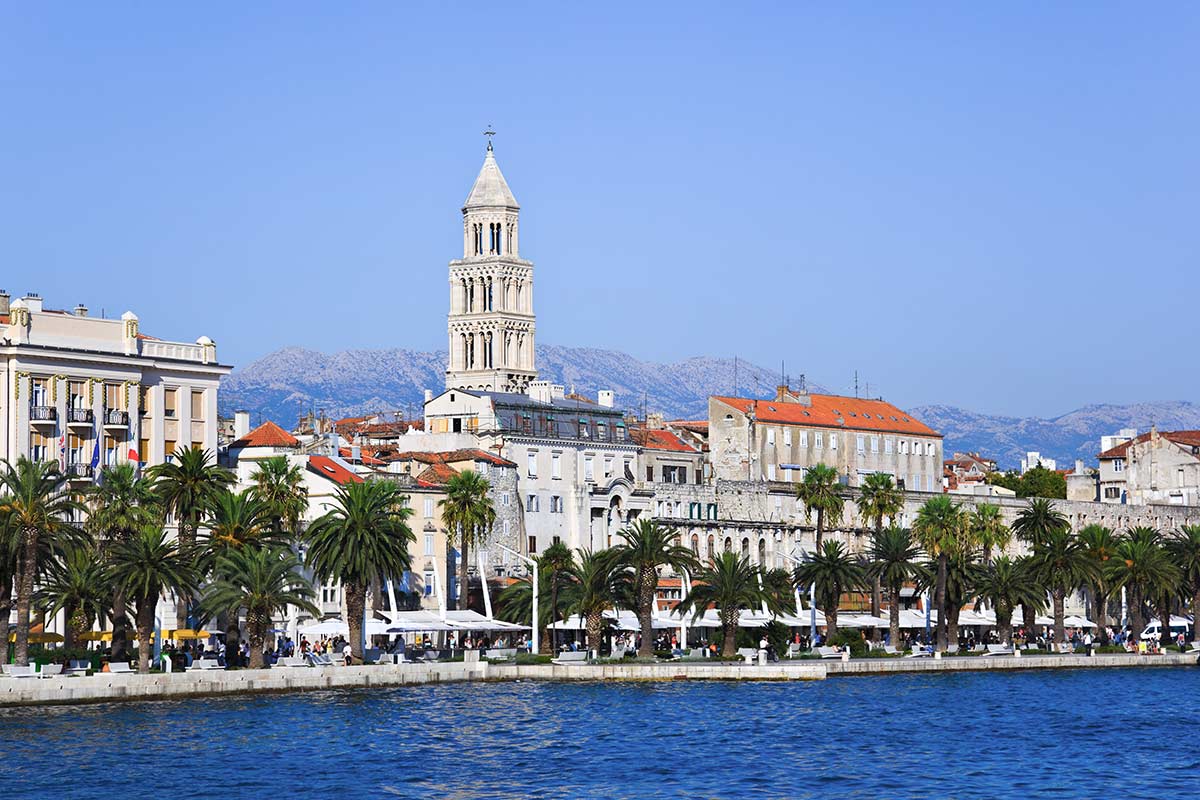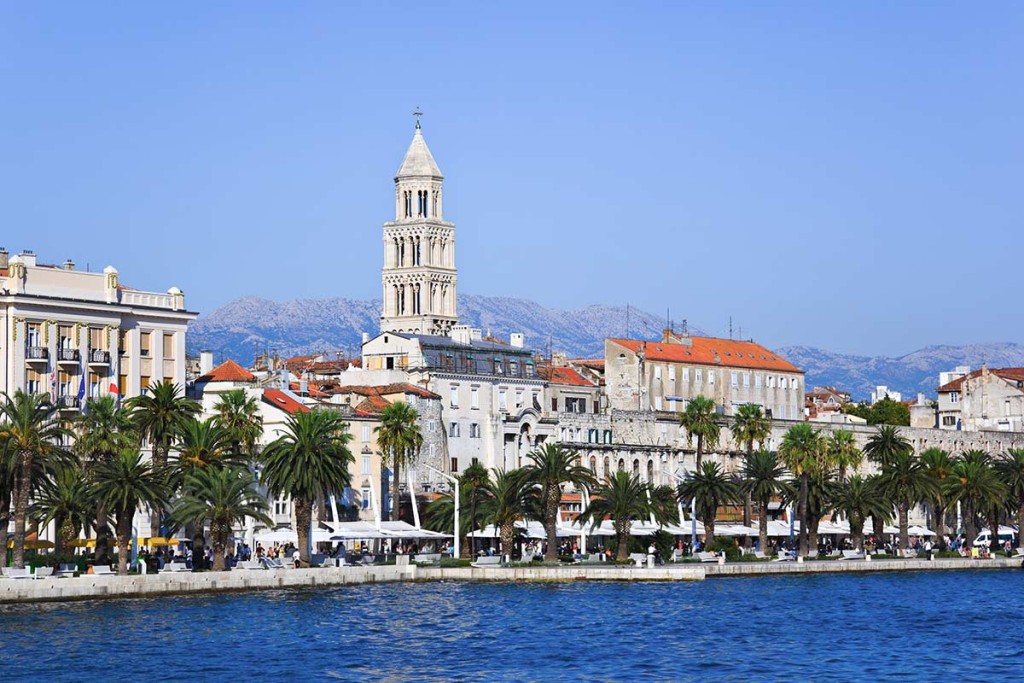 The same atmosphere from Split's Riva one can see in nearly every other coastal Dalmatian city or town, whether on coast or any of the numerous Croatian islands. Riva is the heart of the city and a center point in the life of every local person. Take your time before the tour starts and experience yourself the joy of drinking the first morning coffee bathed by the rising sun shining down on Split and its beautiful promenade.
What to bring with you on Split Blue Cave to Hvar Tour?
Since Split Blue Cave tour lasts for ten and a half hours, it would be smart to bring some stuff with you to make the trip more relaxing and enjoyable. The first thing one should not forget to take is a beach towel and a swim suit. After all, you are about to explore some of the most beautiful bays, beaches and natural beauties of central Dalmatia and the best way to do it is to truly immerse yourself. The second thing which would be wise to take with you is a bottle of cold water and a sandwich to keep you full and hydrated as you explore and enjoy swimming at the stops along the cruise. Finally, if you feel that the day is a bit colder, bring with you an extra long-sleeved shirt or jacket to put on as we speed along on our speedboat. Our speedboats are equipped with waterproof jackets in case of eventual rain or water spraying on higher seas and our skippers will provide you with one if needed.
For everyone who enjoys snorkeling you will be happy to hear that our boats are equipped with new state of the art easy breath masks which are the perfect choice to explore the beautiful underwater world. In case you are more comfortable snorkeling and diving with flippers, be sure to bring your own,

as we don't provide them on boat.
Blue Cave on island Biševo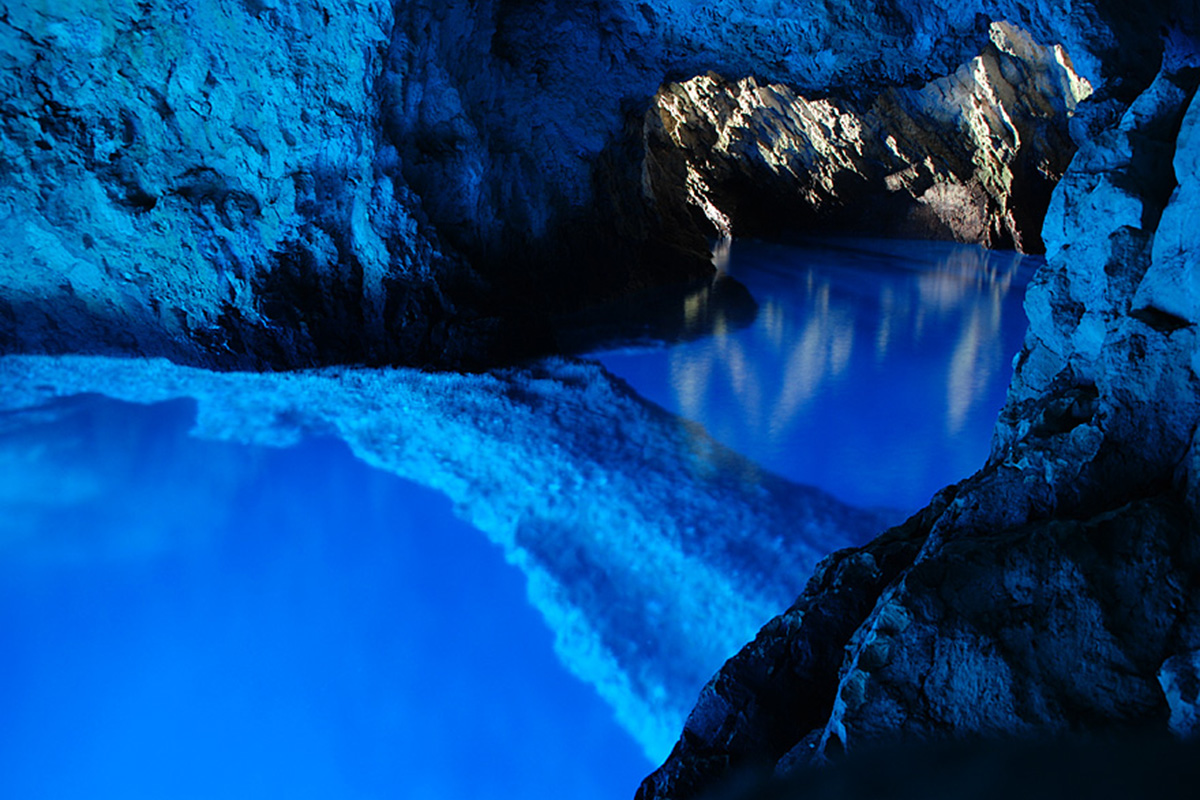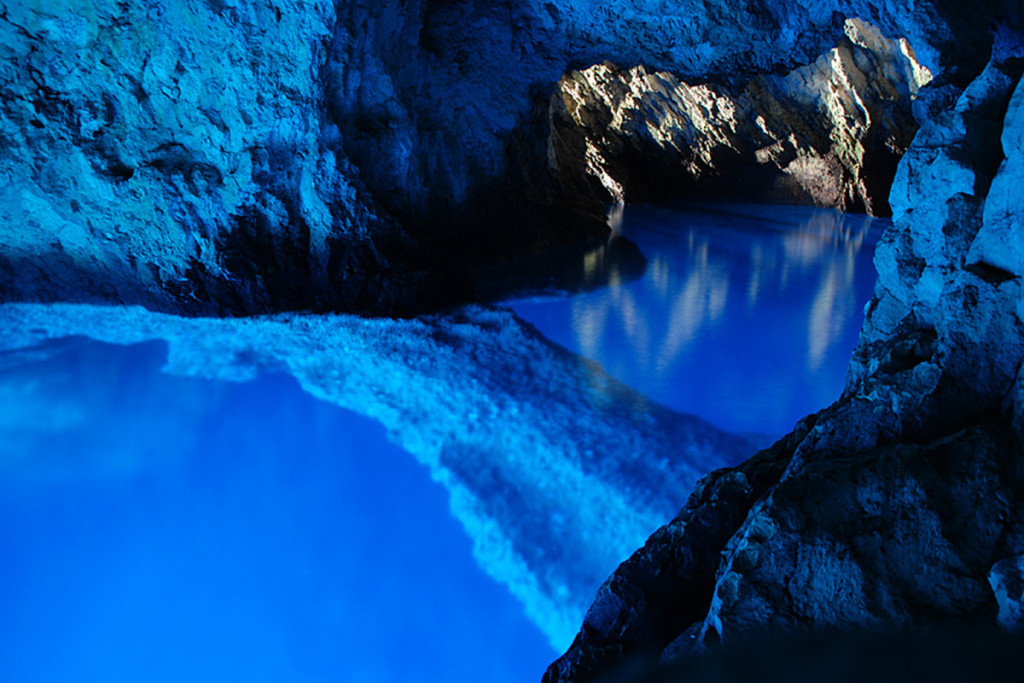 After you have enjoyed your first morning coffee relaxing on Split's Promenade, we board the speedboat around 9 AM and begin our tour as we speed towards a small island called Bisevo located on the South-West of the Vis island. This is the longest part of the speedboat tour as we have to cover 65 nautical miles journey towards Bisevo island. This will give you the opportunity to settle yourself, enjoy the Adriatic scenery of large and small island archipelagos and get to know the power, speed and excitement you will experience on our powerful speedboat.
Even though a picture speaks a thousand words, there is no way to describe and tell the story of the beauty and emotion you experience as you first enter the Blue Cave on Biševo island. It is a Croatian national wonder for a reason and we will not even try to describe it to you. It is for everyone to experience and feel in their own way and best to let the cave speak its story directly to you.
What we can and will tell you about the Blue Cave is that we cannot enter it with our speedboat. We moor at the pier where the entrance tickets must be purchased, after which you are taken by a wooden boat on a 15 minute ride toward a cave by a local working as a Blue Cave staff. You don't have to wait in line for the tickets as they are provided by our skippers and are included in our Blue Cave tour. Once you are inside the cave, you can only take pictures without a flashlight, so be prepared to set aperture and exposure length on your camera to take breathtaking pictures inside this natural wonder.
Cruising the South side of Vis island
After you have done the tour of the Blue Cave which seemed to be the main focus of your tour before we started, believe it or not, your journey becomes even more exciting and, we dare to say, even more beautiful from now on. We start by speeding down the south side of Vis island as we stop to visit caves and bays along this mystical shore.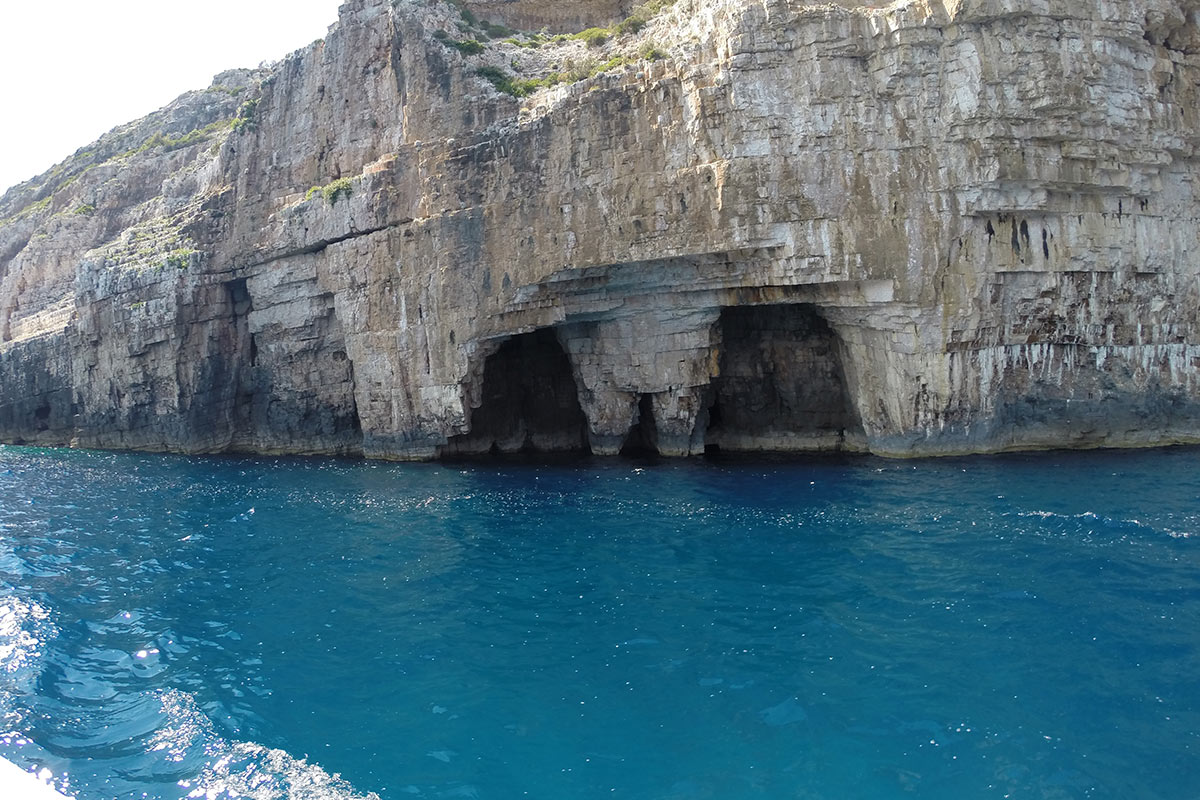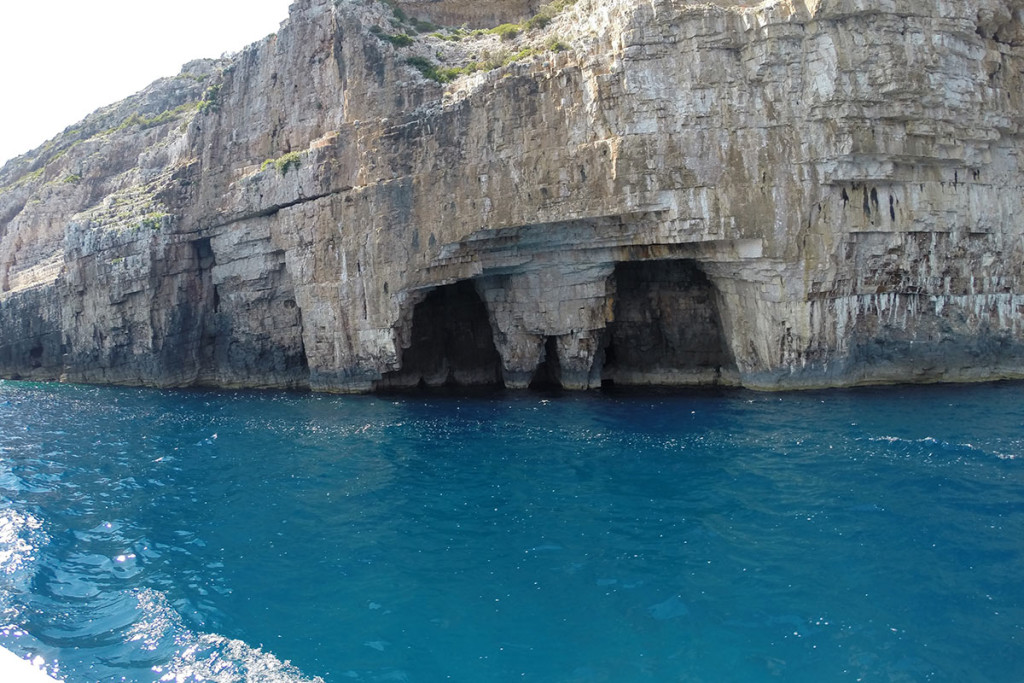 The south side of Vis island reminds of the old tales of Homer, sirens and Greek gods finding their home on numerous caves located on this side of the island. It is so mystical and beautiful because there are no more islands to the south to protect it and soften the power of the sea as it comes rushing down from Italy carried by the full power of the famous wind called jugo. The sea, as one of the most famous natural artists, has been carving its own masterpiece on these shores for centuries and centuries, and even though it's still a work in progress, the results so far will render you speechless.
On this part of the cruise you will get the opportunity to experience the beauties of the Stiniva Cove (it is believed it was a cave on which the ceiling collapsed and it now forms a stunning beach with a narrow entrance to it), Green Cave (the legend says that if you dive under the beam of light coming down from the ceiling, you will live for a hundred years) and beautiful and uninhabited Budikovac island located on the North-East side of Vis island. As we leave island Vis for Budikovac on it's NE cape you will see fully crewed lighthouse Stončica with its octagonal stone tower, built in late 1865.
After you have enjoyed sunbathing on mostly vacant pebble beaches of Budikovac island, we leave Vis archipelago and speed north towards another pearl of Dalmatia called Pakleni islands, an

archipelago forming just outside the famous town of Hvar.
Pakleni islands and Historical city of Hvar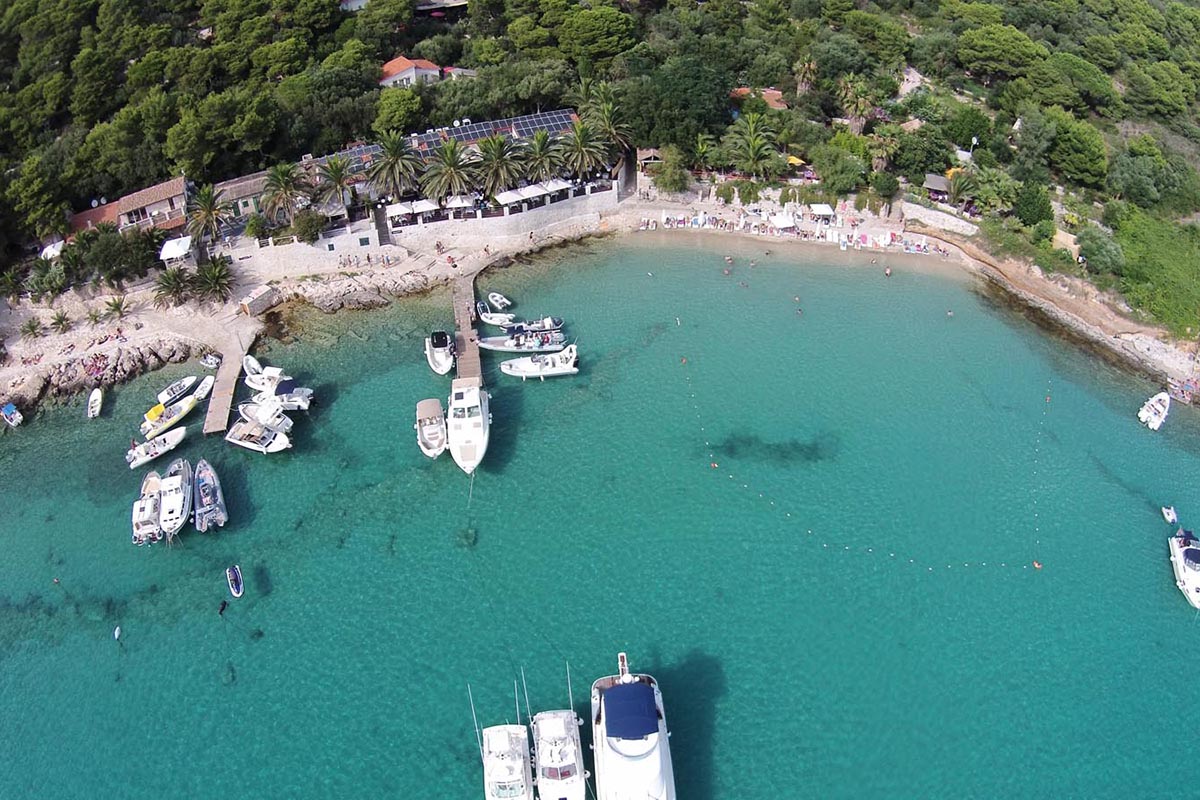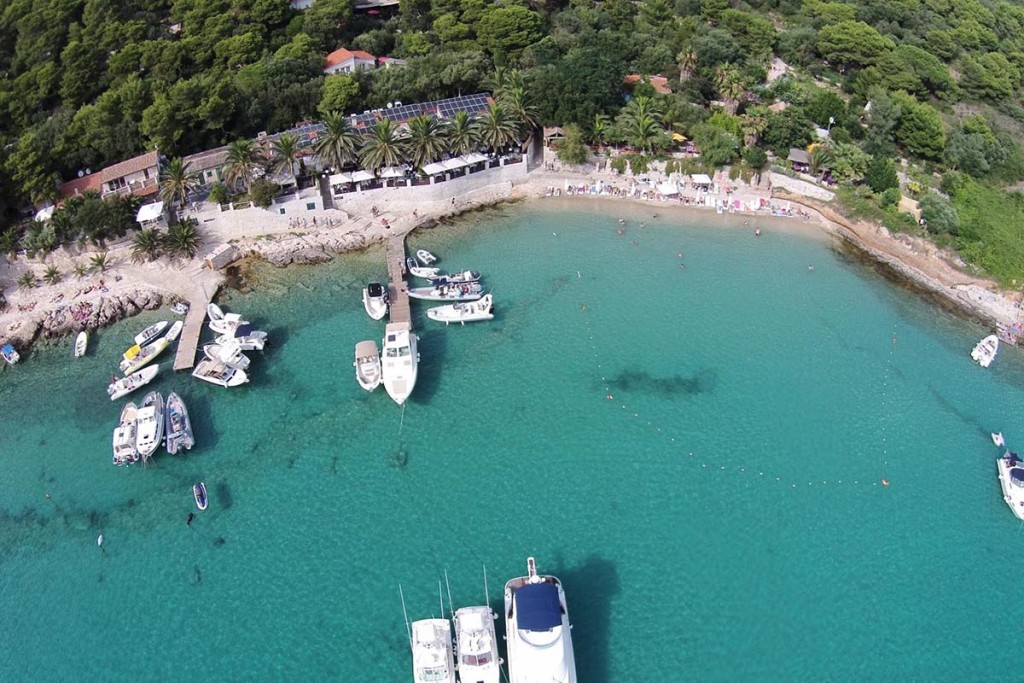 We don't have to cruise too far to reach Pakleni islands and enter the famous Palmizana bay. We have chosen to take you to Palmizana because it truly offers everything to anyone regardless of what your wishes are when it comes to enjoying sun, sea and beaches. As we enter the bay, on your right side you will see a number of beach bungalows and famous Laganini bar (ideal for those enjoying the beach with the sound of modern music and summer cocktail in the hand), right in front of you is the central sandy beach ideal for those who like to lay down and relax under the sun umbrella and for families with kids. On your left side (still looking from our boat entering the bay) there is a stone shore protected by the trees, ideal for those who want to enjoy this beautiful bay in solitude.
Another reason we have chosen to take you to Palmizana bay and stay there for almost 3 hours is because it is filled with picturesque restaurants, all offering tasty traditional food, great location and breathtaking views. You can consult with our tour skippers to help you choose the best restaurant for you to refill your batteries and get ready for the last part of our Blue Cave and Hvar tour.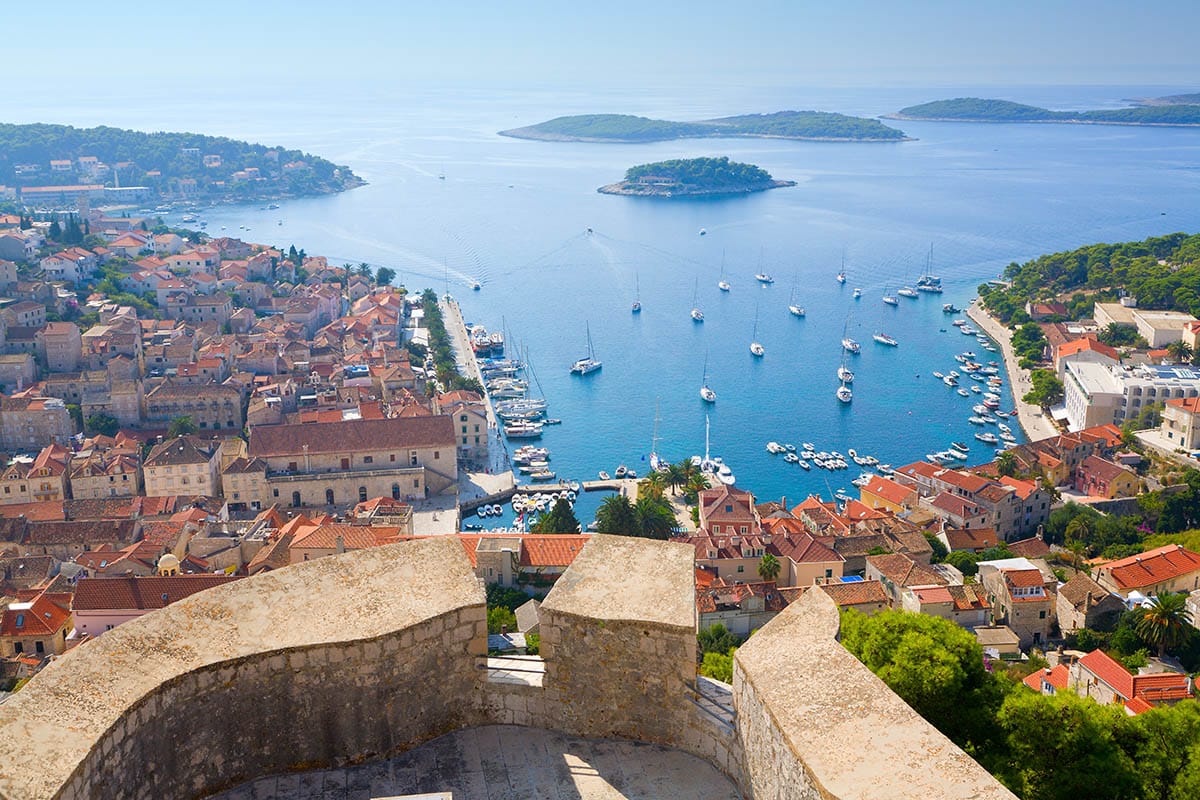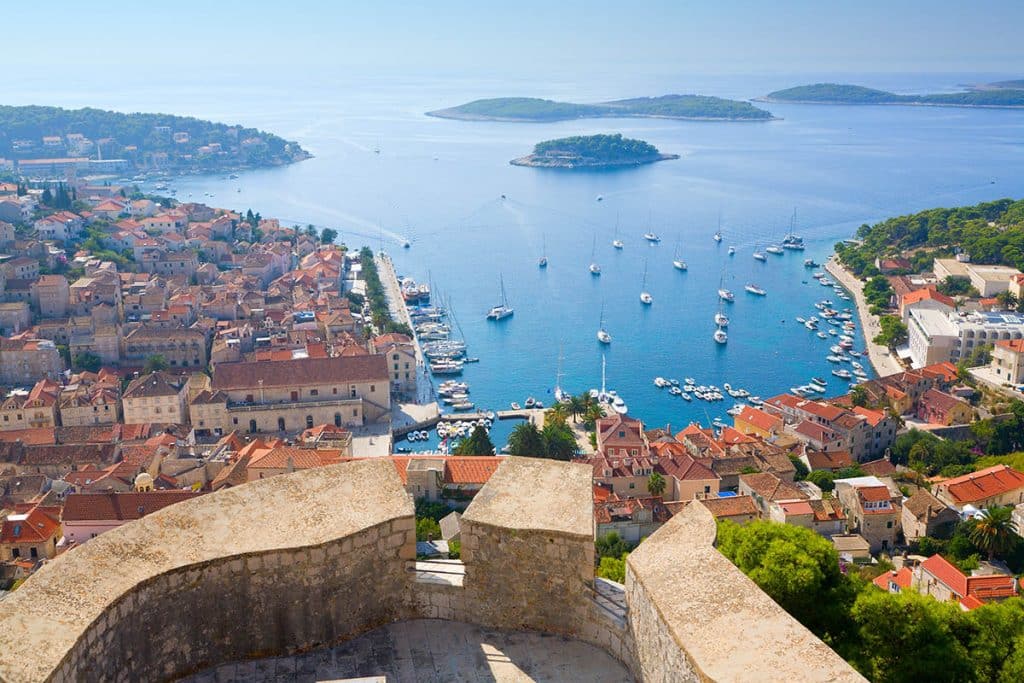 We arrive at the port of Hvar town around 5 PM. Since you have spent the day swimming and sunbathing, you may choose to spend the time here sightseeing popular Hvar attractions, such as town's Cathedral or Fortica fort towering over this breathtaking town. If you didn't have enough of swimming, you can still choose to enjoy the popular Hvar beaches.
Return to Split marks the end of Blue Cave and Hvar Tour
As the sun begins to set down we go for the final part of our journey, when you will once again enjoy the speed and power of our speedboat. Usually at this time of day there is a chance of easy summer wind which creates small waves, making the ride even more exciting and adventurous.
We arrive at the Split' Promenade around 07:30 PM giving you enough time to prepare for the rich night life which the city of Split provides in the summer. Don't miss the opportunity to exchange contacts and say goodbye to all the new friends you have made on our Split Blue Cave and Hvar tour.