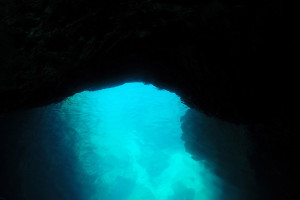 We started our trip early in the morning from Split to Blue Cave & Hvar. The weather was very sunny and the wind seemed to have moderated a bit. After hour and a half speedboat ride, managed by our experienced skippers Ruben i Marijan, we arrived to our first destination, Biševo island.
Everyone was so excited to discover one of the Croatia′s most stunning natural pieces, Blue Cave, where the rays of the sun provide a glowing blue light in the grotto which appears only at certain times of the day. When we entered the Blue Cave, everyone was so enchanted with an emerald – blue tone water. It is one of Croatia′s natural wonders, so everyone wanted to capture the beautiful scenery with their camera.
Bisevo and island Vis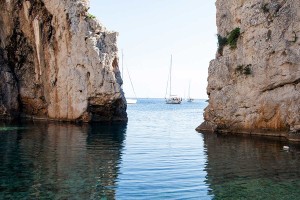 After Blue Cave, we arrived to Stiniva Cove, a 600m long pebble beach enclosed by vertical cliffs. Similar to Blue Cave, we entered inside the Green Cave, where everyone was amazed with emerald – green water. Impressive thing is that the sun leaks through the cave′s ceiling, leaving a trace in the sea and in that way causing remarkable effect of green illumination.
Afterwards, we arrived to the Budikovac island, took a small pause for sightseeing. Isn′t it quite unbelievable that from 2012 this island has only one permanent habitant?
Relaxing and Swimming in Palmizana
We continued our tour with the speedboat to Palmižana bay where we had 2 hours of free time. The weather was hot and sunny all the time and some of the guests took an opportunity to swim and soak up the sun rays. We enjoyed the local specialities of the waterside restaurant and the waiters were so kind and friendly all the time if everything is ok.
Guided Tour of Hvar town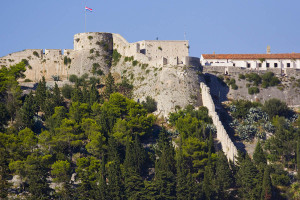 We continued to must see destination Hvar where our experienced guide Nikol was waiting for us. But first, as this was our first opening tour in 2015 we treated our kind guests with homemade cakes at the local cake shop called Nonica. Our professional guide took us on a 45 minutes tour, presenting the traditions and the way of life in Hvar. We walked through the narrow streets lined with Venetian palaces, learned about the history of Fortica fortress, visited the Benedictine monastery, passing through the historic houses and at the end checking out one of the oldest public theatres in Europe. Nikol took us through time and got us closer to the history of Hvar. Hvar truly stands behind the fact that is one of the top 10 islands on the planet! We hade 45 minutes of free time until the departure and everyone took an opportunity to wander along the main square of Hvar. We arrived late afternoon to Split and took a photo all together at the end to capture a memory on our first Speedboat Tour in summer 2015!