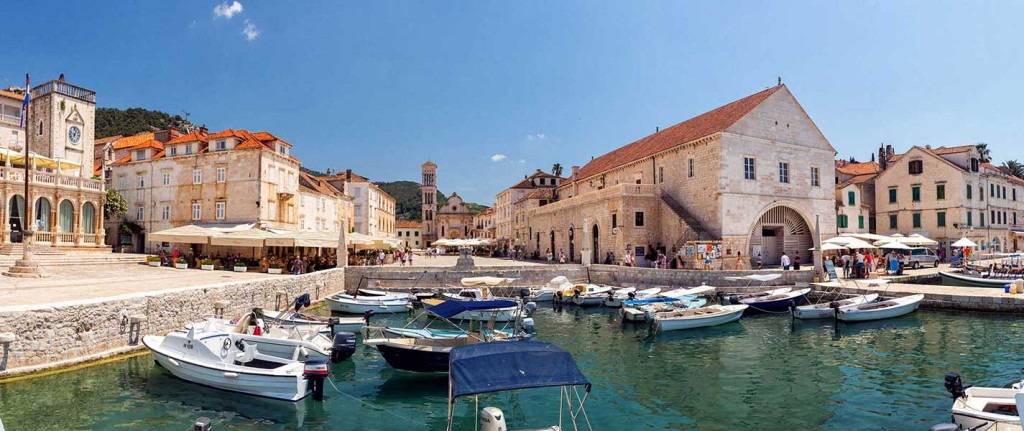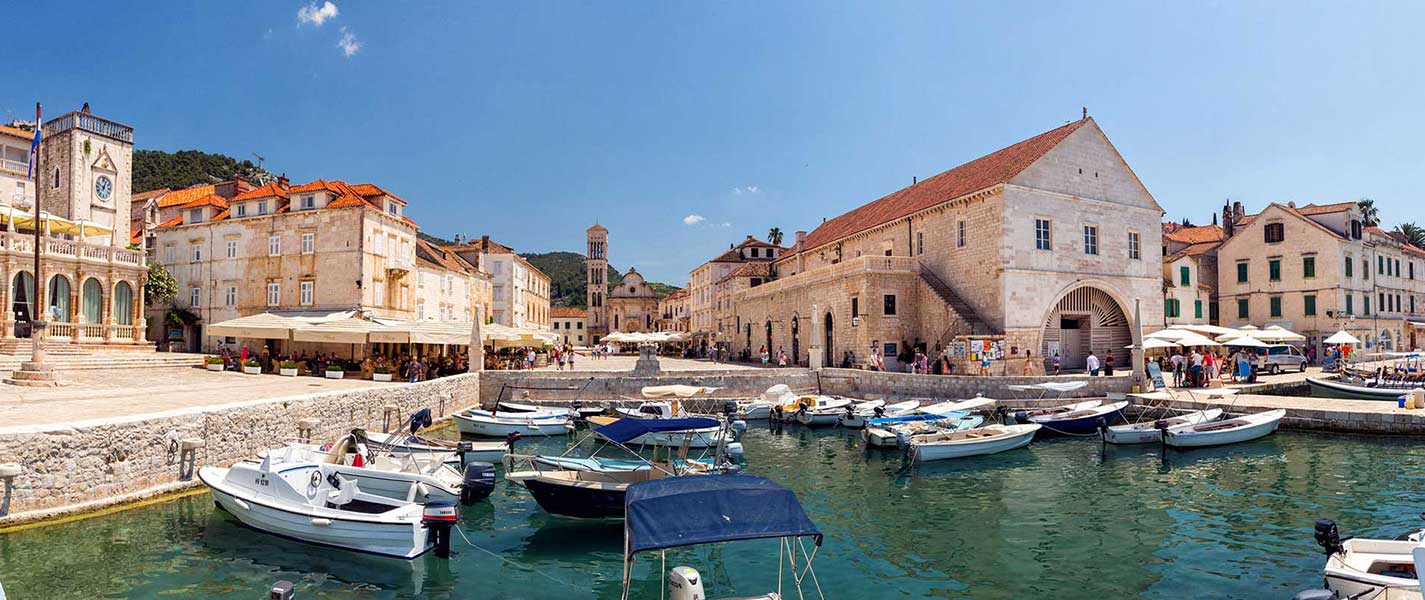 Most people agree that Hvar is the most impressive of all the Islands in Adriatic region. It's urban culture, historical monuments and above all natural beauty makes it hard not to think so. Even if it's not as close as some other Islands, Hvar is surely the most famous one. As it is considered to be the sunniest spot in Europe with over 2700 hours of sun per year, least you can expect is a sunny day.
Island Hvar
But Hvar has much more to offer. It's over 60 kilometers long. Can you imagine how many beaches does it have? Or, have many hidden spots there are? Thousands. And all of them can be seen as true natural beauties. Most of them are not in city of Hvar, but widespread throughout the Island. The whole Island has four counties (Hvar, Jelsa, Sućuraj and Starigrad) with population over 11 000. It's hard to guess how many people there are during the summer with all the guests and one day visitors including.
Another good thing about Hvar are uninhabited islands nearby, called Pakleni Islands. It is an archipelago consisting of 16 islands stretching from town Hvar to the West. So if you prefer more to be on your own, to enjoy the sounds of the nature or just to feel the sun with nobody around, Pakleni Islands are the right spot. They are just ten to thirty minutes away from Hvar (with Šugaman's speed boats it takes ten minutes).
Hvar, Blue Lagoon and Trogir
Length of stay in Hvar town: 2 hours
On this signature island hopping tour from Split you will visit Hvar town, Pakleni islands archipelago, island Šolta, swim in the famous Blue Lagoon and finally sightsee old town of Trogir.
How to get from Split to Hvar?
Šugaman tours is a tourist agency specialized in speed boat tours and transfers. Few years ago we started an agency just because we think that speedboat transfers and tours are the best possible way to discover islands in the region.
Public transport which operates from Split (Jadrolinija) is organized in a certain way that makes people lose quite some time, but also it makes it impossible to get from the one Island to another. Each time you decide to see other Island first you have to make your way back to Split. Public transport is mostly suitable for people who decide to reach an island with the car and stay there few days.
On the other hand, speedboat transfer makes you really enjoy your journey to the island. It's perfectly safe and fast. Our fast and comfortable speedboats can reach Hvar, for example, in less than 60 minutes. Šolta, Brač or Drvenik can be reached in less than 30 minutes. But there's more in the journey than that. A fresh summer breeze coupled with the blue Adriatic Sea glint will make you feel on top of the world while on the way to the Split islands.
That's why our speedboats are running daily all summer to the islands and back while our staff with its professional attitude tries to make your journey as comfortable and enjoyable as possible.
Besides our daily tours and transfers from Split to Hvar island you can also arrange a private speedboat tour from Split to Hvar. This option is great for groups up to 10 people ad with it you will have all the benefits at your disposal. Flexible departures and time spent on each stop, accessibility of even most hidden beaches and bays coupled with fast and comfortable speedboat ride allowing you to visit many attractions in the same day.
Why to choose a daily trip from Split to Hvar?
There are a number of reasons to embark on a daily trip from Split. First, as said before, fast and comfortable speedboat that takes you directly to the hot spots of the region. We navigate right in the hidden places, often reachable only by boat. Islands in the region offers number of hidden places like beaches, bays, coves, caves and they are all easily accessible to us.
Further on, we usually try to get to several places within each tour, so our guests can enjoy in as many of attractions and destinations as possible. This especially works for Hvar since there are few islands directly on its way and few others further to the south.
For example, our most popular full day tour takes you to five spots, including the city of Hvar. If u take a look on the map it perfectly makes sense. And if you check the destinations planned within the tour you can make sure that it's worth seeing all these places.
Tour is called Blue Cave & Hvar tour – as Blue Cave is furthest among destinations to be visited, it's approximately on a half way to Italy. But its pearl shining interior will make you remember the moment for the rest of your life. Later on we stop at Green cave (next to Island Vis) just to have a swim, to check how does it feel to swim inside the island. Next stop are Pakleni Islands, fascinating archipelago in the middle of sea. It's perfect place to take a rest, to enjoy nature and to swim in the cleanest turquoise colored sea. At the end of this packed speedboat tour we stop in city of Hvar.
Hvar is not as big as people expect, that's why it can fit tour like described one. One hour or a bit more is quite sufficient to feel its atmosphere, to see it's historical heritage and to witness Hvar's urban lifestyle.
Last Updated on