Blue Cave & Hvar Tour from Split
The Ultimate Snapshot of Central Dalmatia on an Island Hopping Adventure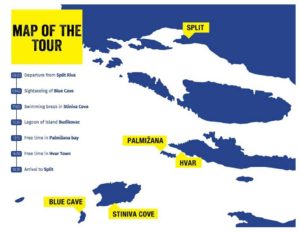 Come aboard our signature Blue Cave tour and bounce from one island to the next, embracing only the best that each destination has to offer. Explore the mesmerizing Blue Cave on Biševo island before roaming around the Monk Seal Cave and swimming in the award-winning Stiniva Bay.
Strap on your snorkel and dive into the underwater world of Budikovac island before satisfying your hunger in Palmižana Bay. End the day by strolling the palm-lined waterfront, curious alleyways, Venetian palaces, and vibrant squares of Hvar town before setting off on a scenic ride back to Split.
Tour Duration: approx. 10 hours
---
AND GET INSTANT CONFIRMATION
Monk Seal Cave
Located on the southern tip of Bisevo island, this 160 meter long cave is adventurers paradise
Blue Cave Tour Highlights
---
| | |
| --- | --- |
| • | Small group experience |
| • | Experience the outstanding beauty of the Blue Cave's flickering light |
| • | Taste the best Mediterranean cuisine in Palmizana |
| • | Capture a picture perfect moment in the breathtaking Stiniva Cove |
| • | Visit the single populated island of Budikovac |
| • | Round it all off by visiting iconic Hvar |
---
Departures
01.04.–15.06. & 01.09.–31.10 at 08:00 AM
16.06.-31.08. at 07:30 AM
Itinerary
16.06-31.08 departure at 07:30
07:30/08:00 Departure from Split Riva
09:45 Sightseeing of Blue Cave
10:30 Exploring of Monk Seal Cave
11:15 Swimming break in Stiniva Cove
12:00 Lagoon of Island Budikovac
13:15 Free time in Palmižana bay
16:00 Free time in Hvar Town
19:00 Arrival to Split
The Things You'll See on the Blue Cave Tour!

This full-day speedboat tour offers you the ultimate snapshot of Central Dalmatia.
From Split to Blue Cave
As you can see on the Blue Cave tour map above, Biševo island is the most distant island from Split on our trip. Nevertheless, our fast speedboats are able to cover this distance in approximately 90 minutes. Since our Blue Cave tour starts early in the morning, you will enjoy the panorama of the islands near Split before the sun rises high on the horizon. From the Blue Cave, all other attractions on our journey are just a short boat ride away.
Blue Cave Tour
Explore one of Croatia's remarkable natural masterpieces – the Blue Cave on Biševo island, where the sun's rays reflect off the water and white seabed to cover the cave's interior with a vivid shade of blue.
The tour is organized from the small port on Bisevo island. You will board a wooden boat which is capable of entering the narrow cave entrance. Getting inside the Blue Cave is quite an adventure that you will not soon forget.
Quick FAQ's about the Blue Cave tour
Can I take pictures inside the cave?
Taking photos inside the cave is allowed, but without a flashlight
How long do you stay inside the blue cave?
As you pass through the cave entrance and enter inside, you will circle slowly around the cave and have the chance to take photos. It takes approximately 15 minutes to circle around the cave and exit.
Can I swim inside the Blue Cave?
Since the Blue Cave on Bisevo island is a natural wonder of Croatia, we must fight to preserve its beauty for generations to come. Thus, swimming inside the cave is not allowed.
---
Island Vis
Witness this bright blue phenomenon up-close before heading towards the Monk Seal Cave.
The longest cave on Biševo island (160 meters), the Monk Seal Cave is named after, you guessed it – the Mediterranean Monk seal, which is known as one of the most endangered mammals in the world! On our stop here, you'll have the chance to experience the grandeur of the cave first hand.
Before you know it, you'll be soaking up the sun at Stiniva Bay on the island of Vis, a 600-meter-long pebble beach enclosed by vertical cliffs which was named Europe's best beach back in 2016!
From Stiniva, you'll dive into the turquoise lagoon of Budikovac, or let your curiosity lead you past the extended pebble beach of Dalmatia's only island with a single inhabitant.
---
Pakleni islands
The Pakleni Islands are a set of 14 flawless islets which includes the increasingly popular Palmižana Bay. Lucky for you, you'll have the bay at your disposal for 2.5 hours.
Palmižana boasts an impressive selection of waterfront restaurants where you can dig into the freshest finds from the Adriatic before taking another dip in our deep blue sea.
---
Hvar
You'll end the tour embracing the glitz and glamour of Hvar town, a pearl of Dalmatian tourism located on Croatia's sunniest island of the same name. Hvar is no stranger to the spotlight and is known for welcoming the hottest international celebrities and world-class yachts, though behind its prestige is a charming, humble, and ancient town waiting to be explored.
You can hike to the top of the Fortica fortress, a symbol that sits high above the town with a view of red-rooftops and the Pakleni islands below, or embrace the history in the center of the city, which boasts the Arsenal, home to one of the first public theaters in Europe.
Circle through the maze of narrow streets to find art galleries, locally-made handicrafts, and colorful jewelry shops or park yourself at a cafe with the view of a Venetian palace in front of you.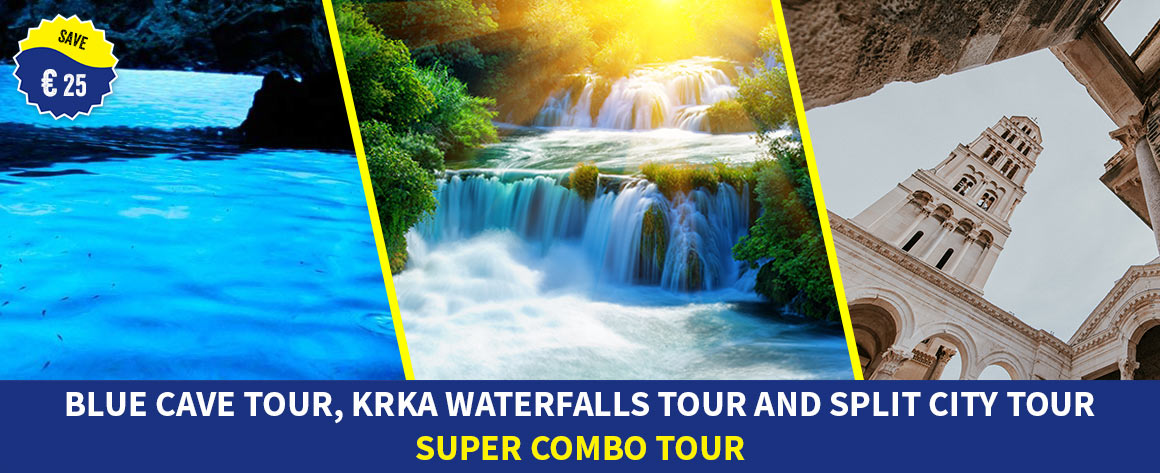 Ticket Info
Price per person: € 100
For group discount, please contact us.
---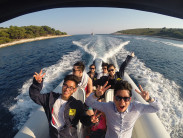 ---
Inclusions
Free pick up (subject to availability), snorkeling gear, safety equipment, insurance.
Hotel pick up (from selected hotels only: Le Meridien Lav and Radisson Blu hotel on request)
---
Exclusions
Entrance fee to the Blue Cave, lunch (available with prior reservation, optional), entrance fee to the Hvar Fortress (optional), gratuities (optional)
---
Weather
Tour is subject of weather conditions, and may be cancelled or itinerary can be changed if weather conditions create unsafe conditions for the tour.
If the tour is cancelled it can be rescheduled or a full refund will be issued.
---
Please note
Designated stopping time at each destination may vary depending on weather conditions and number of visitors. If so, the itinerary may be adjusted in compliance with the guest to provide the best tour experience.
Blue Cave Entrance Fee
Blue Cave entrance fee is not included in the tour ticket so please have the exact amount prepared once you arrive at the Sugaman office.
Blue Cave entrance fee
01/04-30/06 & 01/09-31/10: 70 HRK (app. 9,30 Eur)
01/07-31/08: 100 HRK (app. 13,30 Eur)
---

Useful Tips
The Blue Cave is one of Croatia's natural wonders, so try to capture the scenery with your camera
In order to make your trip as comfortable as possible, bring a hat, sun cream and comfortable shoes.
Wear casual and light clothes. Water/windproof jackets will be provided.
---
Lunch option
If you would like to have a lunch in picturesque Palmizana bay, there are four delicious menus to choose from. Each one consists of main plate and salad, without drinks included, but you have free drinks on board. If you decide to book without lunch and change your mind in the meantime, don`t worry- you can book it in our office on the day of excursion.
---
Meeting Point and Arrival Info
Office address: Dosud ulica 4
get the directions
---
Arriving by car
July and August can get very busy, so we recommend you get clear instructions about available parking
view nearby parking map
---
Arriving by bus
Buses that stop at Tržnica (green market) near our office
2, 3, 5, 8, 9, 10, 11, 14, 15, 17, 18 and 60
view bus map
---
Free Pickup Service
Free pickup service is subject to availability
---
Tour Restrictions for the Blue Cave Tour
There are no restrictions in terms of age or health, although pregnant women, and any individuals suffering from injuries such as back and neck issues are not advised to go on the tour as the sea can get rough in an instant.
Not recommendable for children under 3 years old
Not wheelchair accessible